Video Shows Looter 'Flash Mob' Rush 7-Eleven During Street Takeover: Police
A 7-Eleven store in Los Angeles was ransacked early on Monday morning by a group of looters as part of a "street takeover," according to police.
The Los Angeles Police Department (LAPD) on Thursday has released surveillance camera footage, taken from both inside and outside the shop, showing dozens of people breaking in and stealing food, drinks and tobacco products.
Officers said the incident began at 12:40 a.m. on August 15 with a "street takeover" which was "initiated at the intersection of Figueroa Street and El Segundo Boulevard."
Cars "flooded" the intersection and blocked traffic in all directions, creating a pit in which some drivers were "doing donuts" by spinning their cars around in a tight circle, police said.
A statement from the LAPD said: "The spectators then formed a 'flash mob' of looters and rushed a nearby 7-Eleven located at the northwest corner of Figueroa Street and El Segundo Boulevard.
"Video surveillance from the store showed the looters fanning out across the store and grabbing all the snacks, drinks, cigarettes, lotto tickets, and other merchandise.
"Looters also vandalized the store and threw merchandise at employees.
"The looters then exited the store to the surrounding parking lots and streets, and quickly dispersed before police arrived."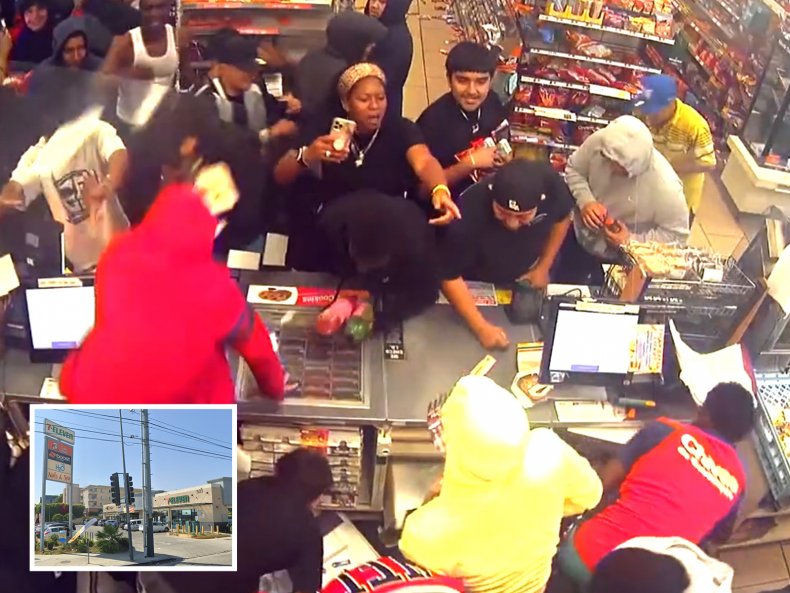 Video taken outside the store shows several dozens of people gathered, some of whom appear to be filming the scene on their cell phones.
A large group could then be seen entering the 7-Eleven and grabbing products from the shelves, before pushing back a plastic barrier to access cigarettes being kept behind the counter.
One male could be seen seen throwing packs of cigarettes from behind the counter, which scattered on the floor and were picked up by others.
The 7-Eleven chain in July had advised a number of its stores in the Los Angeles area to close early, due to an ongoing crime wave. At the time, police said they were searching for a suspect in numerous shootings and robberies at 7-Eleven stores.
According to the LAPD, "flash mobs" have recently been used to create "opportunistic criminal occurrences."
The department explained: "The term 'flash mob' was first used to describe a large public gathering at which people perform an unusual or seemingly random act and then disperse, typically organized by means of the internet or social media.
"In the latest cases, however, 'flash mobs' have turned from fun spontaneous events to opportunistic criminal occurrences."
No arrests have been made and the police are continuing to investigate.
A separate street takeover on Sunday saw a male aged between 15 and 20 years old shot dead, reported the Los Angeles Times citing police.
Police were called to the 13400 block of Mettler Avenue, in the Willowbrook area of Los Angeles, at 11:57 p.m.
They found an unresponsive male with gunshot wounds. He was pronounced dead after being taken to hospital, according to the Los Angeles County Sheriff's Department.
Police are asking anyone with information about the 7-Eleven raid to contact LAPD South Traffic Division detectives at (323) 421-2500 or STDdetectives@lapd.online.
The Los Angeles Police Department has been contacted for comment.