A low-flying border patrol helicopter was captured on video Monday attempting to breakup protests to the construction of the Enbridge Energy Line 3 pump station in Minnesota.
The video caught by an MPRnews photojournalist shows the U.S. Border Patrol helicopter performing a rotor wash to kick up dust and grass. The helicopter hovered 20 feet off the ground. Some threats for arrest could be heard over a loudspeaker coming from the helicopter. It was used as a method of dispersing the protestors at the pump site near Itasca State Park, according to MPRnews.
Nearly 1,000 protestors came out to voice their opposition to the Line 3 pipeline replacement. Two dozen of them chained themselves to equipment at the pump site to stall construction. Treaty People Gathering, an activist group devoted to honoring Native American land treaties, organized a multi-day event this week to protest Line 3.
Sheriff's deputies from Hubbard County, Minnesota State Patrol troopers and Department of Natural Resource officers were at the site of the protests, but intervention and police presence has been minimal, according to MPRnews. Newsweek reported Monday Minnesota Governor Tim Walz does not plan to call the National Guard to manage the protestors of Line 3.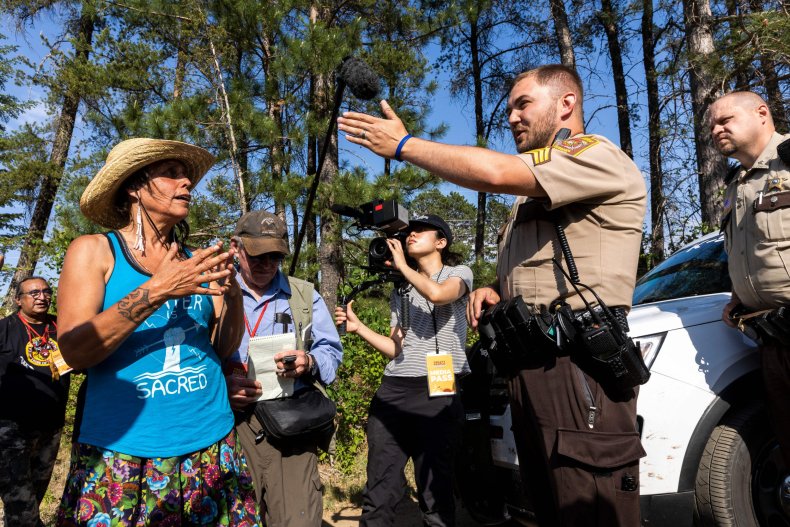 Enbridge told Newsweek 44 workers on site were evacuated after noticing the growing number of protestors in the construction area.
"Our workforce stood down, had to be evacuated, left the site," Paul Eberth, director of tribal engagement for Enbridge told MPRnews. "That's in our effort to de-escalate. But since then people have locked on to equipment. Damage has been done. It's hurtful."
Enbridge Energy began the replacement project to restore the pipeline that runs from Alberta, Canada to Wisconsin. The company believes the modernized technology used for Line 3 will prevent oil spills and create a safer pipeline.
Opposition to the project suggests the replacement will worsen the global climate change issue and cause more spills in vulnerable communities along the 340-mile pipeline. The Ojibwe Native American tribes have treaty rights to use the surrounding land to fish, hunt and farm, according to AP.
"Protests to date, including today's Treaty People Gathering have had relatively little impact on the construction schedule which is on track across five different construction zones working simultaneously along more than 330 miles replacing Line 3 in northern Minnesota," a spokesperson for Enbridge Energy said.
The company has implemented input from the community as well as activists involved with Treaty People Gathering during the planning and approval stages of the pipeline.
The pipeline replacement is over halfway done, and the project is expected to be complete by the end of the year. The project was originally approved back in 2018. Protests ramped up on Monday due to construction crews returning from a two-month pause that allowed the Minnesota ground to thaw from the winter months.