Video Shows Man Destroying Grocery Checkout with Axe for Not Serving His Maskless Wife
A viral video has caught an axe-weilding man destroying a grocery store checkout section. He reportedly destroyed it because the store's employees refused to serve his wife for not wearing a face mask.
In the video, a man dressed entirely in black walks towards a supermarket entrance while holding an axe. His wife, also dressed entirely in black, walks behind him as their son films, World Today News reported.
As soon as they enter the store's checkout area, the man begins using the axe to destroy price scanners, plastic barriers and store displays. He screams as he walks around the store, chopping various items.
The incident reportedly took place in an ATB supermarket in Mariupol, a coastal city in the southeast Ukrainian region of Donetsk Oblast. The video surfaced on Monday in the "Public Freakout" section of the online discussion website Reddit.
Before recording the video, the man's wife tried to make a purchase without wearing a face mask. The cashier reportedly refused to serve the woman until she wore a face mask, something required by law, the Ukraine news website Informator reported. The wife refused.
The woman began arguing with several employees and customers. She eventually left the store and told her husband that a male customer had pushed her during the argument.
As the axe-wielding man began his attack, the store's employees notified police by pressing a panic button and then fled. The man fell down during his attack, but only remained in the store for less than a minute before fleeing himself. Security officers and a police squad arrived afterward.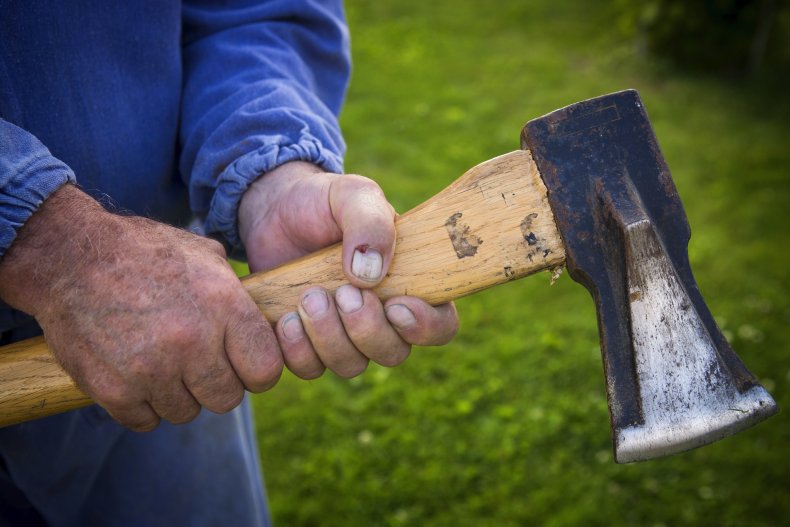 He reportedly destroyed four cash registers and checkout areas, inflicting damages costing 100,000 Ukrainian Hryvnia, roughly $3,720.96 in U.S. dollars.
"ATB Corporation strongly condemns the aggressive actions of this person who endangered the life and health of employees and visitors of the store," the store said in a statement.
The man bragged about the attack in a now-deleted Facebook post. Police arrested him later. The man was revealed to be a 35-year-old local resident whose name wasn't revealed in regional media. He had been named as a suspect who allegedly destroyed another grocery supermarket in the same area.
Police charged the man with hooliganism. He faces three to seven years in prison, if convicted.
As of August 3, the video has received over 12,800 upvotes and 1,814 comments in Reddit's "Public freakout" forum. Most of the comments express disapproval over the man's actions and his reported use of his son as a cameraman.
Since the start of the pandemic, the region of Donetsk Oblast has reported
91,683 COVID-19 cases and 2,391 related deaths. The country of Ukraine has only vaccinated roughly 6.5 percent of its entire population, Reuters reported.
Newsweek contacted ATB for comment.