A video taken in Midwest City, Oklahoma by a witness shows a man firing a rifle into the air multiple times in a parking lot before he was shot by police.
The footage, obtained by local NBC affiliate KFOR-TV, shows a man walking through a lot on the corner of Reno and Air Depot with a rifle, which he fires off multiple times.
Emergency crews responded to a reported shooting near Heritage Park Mall shortly before 9 a.m. on Friday. When police arrived, they found a man with a gun walking along the sidewalk.
The man continued to fire shots "indiscriminately," despite attempts from authorities to get him to drop the rifle, according to local news station KOCO-TV.
The suspect reportedly ran out of ammunition, which was when officers used a taser on him, but it was ineffective at controlling the situation.
The man reportedly then pulled out a handgun and started shooting again as he walked towards a nearby gas station filled with people.
Police shot the man twice—once as he entered the gas station and a second time when he tried to reach for his weapon while on the ground. The suspect has since been sent to a nearby hospital for treatment, although his condition is unclear at this time.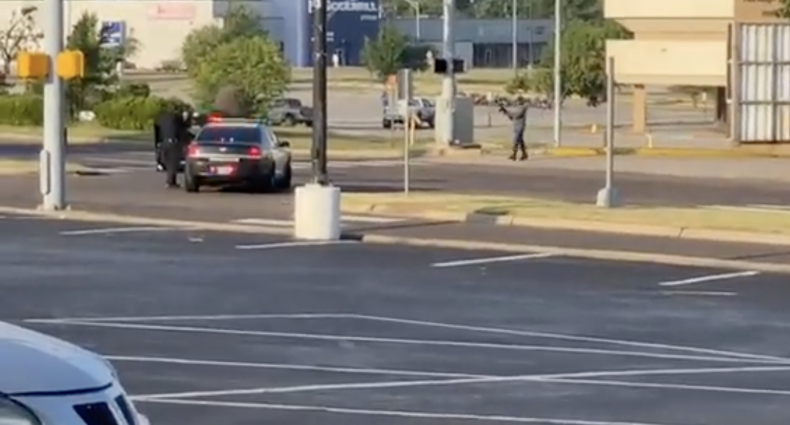 Midwest City Police Chief Sid Porter said he expects the investigation to continue over the next couple of days.
Newsweek reached out to the Midwest City Police Department for comment but did not hear back before publication.
A couple of weeks earlier, Midwest City police chased down a different gunman who shot himself in a standoff with the police.
On August 11, Curtis Spencer shot himself in the chin before firing at officers with the Oklahoma County Sheriff's Office.
After he was pulled over for an expired tag, Spencer led police on a chase to his grandmother's home, where he emerged with a 22-caliber rifle. The police department brought a negotiator to talk him out of the home.
When Spencer emerged, an officer tried to grab the rifle. As the suspect pulled away from the officer, he fired one shot hitting himself in the chin, and fired two more shots that nearly missed the officers on the scene.
Oklahoma County Sheriff's Office spokesman Aaron Brilbeck said officers did not fire back.
"They could have very justifiably shot him. They didn't fire off a single round," Brilbeck told KOCO-TV. "He ran down the street. Officers chased him, tackled him, took him down and he was taken to the hospital."
"Nobody but the suspect was injured. Police conducted themselves in a very calm manner. Probably prevented this guy from killing himself," he added.