A video shows a man confronting Arizona state Senator Michelle Ugenti-Rita after she was booed off the stage at a rally featuring former President Donald Trump Saturday.
The man asks Ugenti-Rita, a Republican running for Arizona secretary of state, why she "killed Senator Kelly Townsend's election integrity bills in the Senate" in the video, which was posted to Twitter account @patriottakes.
"Because it was bad," she responds.
The footage shows the man, who is not identified, continuing to question Ugenti-Rita if she thinks that is why she was booed off the stage as she walks away, not responding. He also asks if she was seeking an endorsement from Trump.
The video cuts away to the man asking if she tried to have him arrested for "harassing" her.
"That's what Katie Hobbs did," he claims, referring to the incumbent Arizona Secretary of State who is running for governor.
The video then shows a security official approaching the man.
"A person who said that you committed something that was harassing to them, so you're required by Arizona law to leave," he says, in response to the man inquiring why he was being kicked out.
"You're trespassing...You're being asked to leave the property. If you do not leave the property, you'll be arrested," another person says.
The video again cuts away to the man being followed by police telling him to leave while outside.
Ugenti-Rita tweeted Sunday that "a so-called reporter was removed by police & event security from an event yesterday after repeatedly harassing me," alleging Townsend, a Republican state senator, "encouraged him to break the law by committing trespassing by re-entering the building to continue to harass me."
She linked to an article from The Gateway Pundit, a far-right blog that claimed the man works for them.
Newsweek reached out to both Ugenti-Rita's campaign and Townsend's office, but had not yet received a response Sunday afternoon.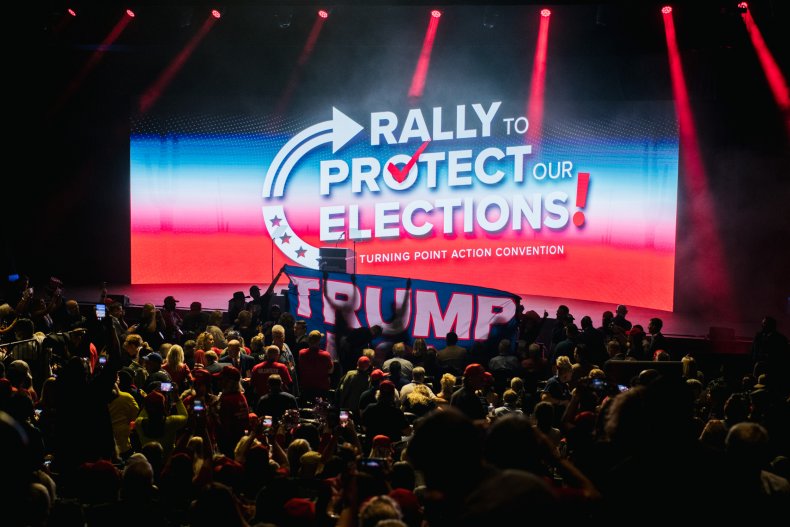 The "Protect Our Elections" rally was hosted by Turning Point Action in Phoenix.
"Why don't you listen to what I have to say?" Ugenti-Rita said to the booing audience. "Listen. Fine, OK... I am running to be your next secretary of state. I'm going to win the primary. Thank you very much."
Ugenti-Rita did not support a bill that contained several proposals related to election law, the Arizona Capitol Times reported. She said many of the issues never got a "public airing" in the Government Committee.
She defended herself in a Twitter thread Saturday night.
"I've been on the frontlines of the battle for election integrity for the last 10 years," she said in the tweets. I wrote the law banning ballot harvesting, cleaned-up our mail-in voter rolls, strengthened ID requirements just to name a few of my accomplishments."
She said she would not vote for "legislation that does nothing to strengthen election integrity and introduced for self-serving reasons."
"There's too much at stake," she wrote. "Our election system is under constant assault by the left, and I won't support bills that fail to strengthen our election system."