Video Shows Man's Drunken Tirade at Florida Airport
Video posted to social media shows a New York man going on a drunken tirade at an airport in Florida on Thursday.
The man, who has been identified as 34-year-old Ryan Martin, allegedly began drinking at the Orlando International Airport and became agitated when he assaulted a woman and shoved her child during an altercation, news station WKMG-TV reported. The relationship between the man and the victim, as well as what sparked the rant, was not known.
After the incident, security moved the woman and her children into the jetway at a boarding gate—before another passenger began filming the situation, according the news station.
The video begins with Martin shouting obscenities at airport employees, while other passengers are seen leaving the area. He can be seen walking over to the gate's door and begins pounding on it, before he manages to enter.
"Don't touch me," he shouted.
Warning: This video contains strong language and images that may be considered offensive
An airport employee intervenes, escorting the woman and children away from the skyway when the scene turns physical, with a security officer pulling out a stun gun and tackling Martin to the ground to arrest him.
The officer allegedly zapped him several times while trying to handcuff him, according to WKMG-TV. Police placed him in a wheelchair and escorted him away. Martin faces charges of child abuse, disorderly intoxication, domestic violence, battery and resisting an officer with violence.
Jessica Smith, who recorded the video and posted it online, told the news station she was "just terrified."
"When he started to yell and pound on the door—that's when I started just to get really nervous," she said.
Martin was not the only unruly passenger arrested in Orlando on Thursday. Chad Breaux, 43, allegedly yelled on a Southwest Airlines flight to other passengers: "If you are a man, you wouldn't be wearing masks." When police escorted him off, he allegedly yelled profanities while continuing to yell at passengers.
He allegedly took an aggressive stance with police, and an officer "took him to the ground." He faces charges of battery and assault on a law enforcement officer.
Unruly passengers have become more prevalent in airports and on planes since the pandemic began in 2020. From January 13 to February 15, the Federal Aviation Administration dealt with nearly 500 reports of unruly passengers alone—with many being related to mask-wearing.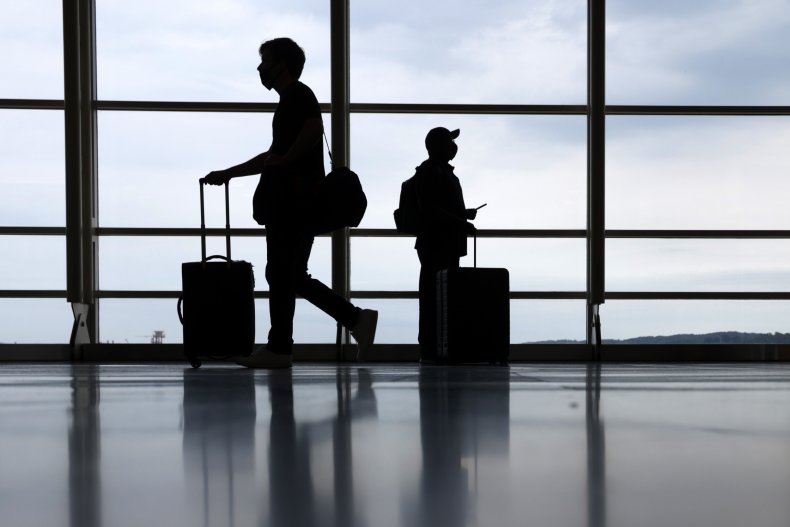 The FAA initiated more than 1,000 investigations into the reports in 2021, far surpassing the second highest number of investigations in 2004, when there were 310, according to FAA data.
Newsweek reached out to the Orlando Police Department and Orlando International Airport for comment Sunday evening, but did not hear back by publication. This story will be updated with any response.