Video Shows Massive Line as Drivers Await Fuel Outside Gas Station
A video on Twitter Tuesday night shows a huge line of cars on the road outside a gas station in an Atlanta suburb. Tens of cars lined the street as they rushed to fill their vehicles with fuel amidst the shortages that prompted Georgia's governor to declare a state of emergency.
The video, credited to David Fortin, was tweeted by Twitter user Michelle. "Welcome to the gas line (at likely the only station with gas left)," she wrote.
Last Friday, Colonial Pipeline, the largest oil pipeline in the country, paused its operations and notified federal officials that it had fallen victim to a ransomware attack, suspected to be the work of a criminal syndicate called DarkSide. The hacking has caused gas stations across the Southeast to hike prices, while drivers are rushing to fuel pumps in an attempt to fill up before the gas is gone.
On Tuesday, Energy Secretary Jennifer Granholm told White House reporters that what the country is facing is not "a gasoline shortage."
"It's that we have this supply crunch, and that things will be back to normal soon. We are asking people not to hoard" fuel," Granholm said.
Granholm said there's enough fuel to go around. Still, it has to be transported to the right locations, and the government is taking all necessary measures to ease some of the transportation guidelines, according to Reuters.
According to Patrick De Haan, an analyst with GasBuddy.com, 10.2 percent of gas stations in Georgia were out of fuel Tuesday night. Sixteen percent of gas stations in North Carolina were out, with 10.2 percent in Virginia.
These three states, along with Florida, declared states of emergency on Tuesday night, but experts say that the emergency is caused by excessive purchasing and hoarding, not by the pipeline pause.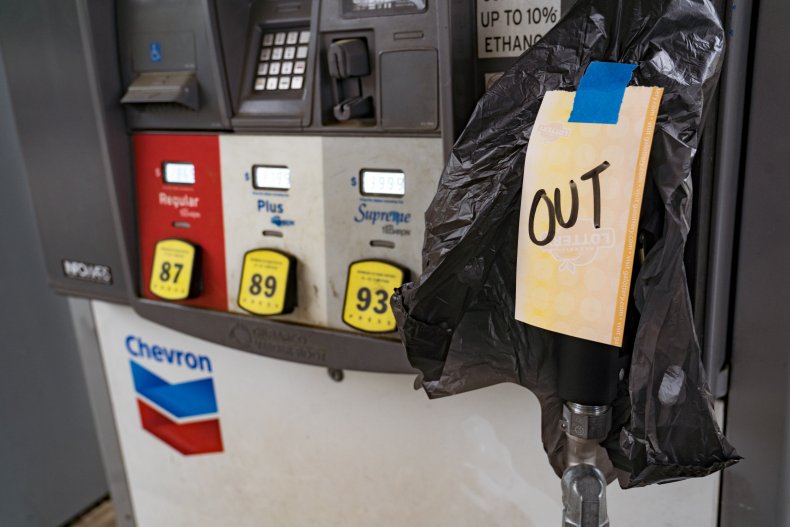 American Automobile Association spokesman Mark Jenkins said in a statement Tuesday that the people "who are seeing reports about the Colonial Pipeline outage and are rushing to the pump to fill their tanks, they're actually creating the shortage of gasoline there in Tallahassee and other regions around Florida."
Granholm told reporters that the pipeline would be up and running in a few days, but concerns about price gouging remain.
"We expect that gas station owners are and should act responsibly," she said. "We will have no tolerance for price gouging. Federal and state officials will be investigating those actions if they see price gouging."
Still, with the panic-driven gas buying and state emergency declarations, people continue to stock up in unnecessary amounts. South Carolina Governor Henry McMaster tweeted on Tuesday, "There is no need to rush to top off your gas tanks or hoard gas - the pipeline is expected to resume operations by the end of the week."
Experts also urged Americans to stay calm. At the White House press briefing, Granholm said, "Much as there was no cause for, say, hoarding toilet paper at the beginning of the pandemic, there should be no cause for hoarding gasoline."