Video Shows Men Doing Push Ups in the Street During the Brunt of Hurricane Ida
Hurricanes have made people along the the Gulf Coast rather tough over the decades and centuries. Sunday night as Hurricane Ida began whipping through New Orleans, four men began a workout routine in the middle of the street in the city's historic French Quarter.
A video released on Twitter shows the folks doing a routine of push ups, and then crunches, near Canal Street and Chartres.
Here's the video.
There was no mandatory evacuation in New Orleans ahead of Ida, which made landfall as a devastating Category 4 storm in south Louisiana around noon (local time) on Sunday. So, as winds howled through New Orleans later in the afternoon, the men did their routine.
They started with push ups and, then halfway through the video, turned over onto their backs and began doing crunches.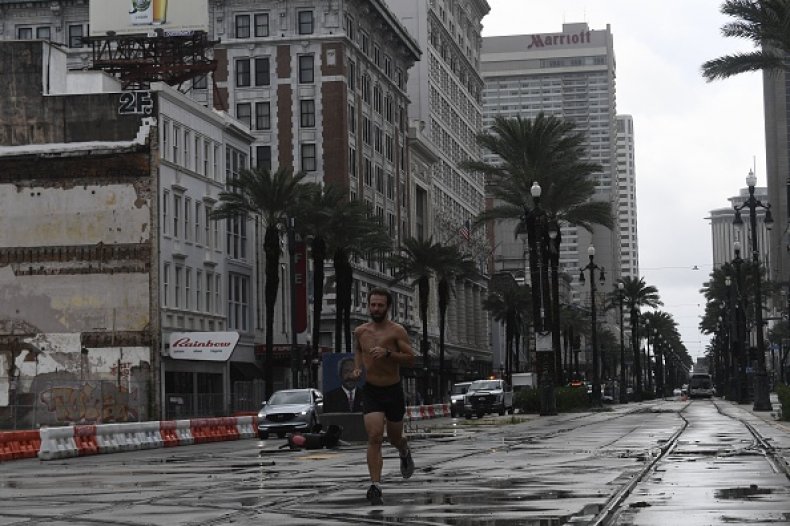 Ida's winds hit New Orleans with monster force during the afternoon and evening, leading to an electrical transmission tower falling into the Mississippi River. Next thing, the city went into a blackout.
This happened as winds of 120 mph whipped through the Crescent City during one of the most powerful storms the area has ever seen in recorded history. And that includes Hurricane Katrina, which made landfall exactly 16 years to the date.
New Orleans is still without power Monday night, and more than 1 million people lost power from Ida as it worked its way through the most-populated part of the state.
The storm downgraded to a Category 2 storm by midnight, and Ida looked to veer just west of New Orleans. However, the threat of heavy storms and spotty tornadoes on the east side of Ida was still prevalent.
New Orleans did not take a direct hit from Hurricane Katrina, which made landfall on the Mississippi Gulf Coast in 2005. That storm did create a breach in a levee that flooded the Ninth Ward of New Orleans.
There has been no storm of this magnitude in the New Orleans area since Katrina, which has kept residents on edge.
So the sight of men doing push ups and crunches in the middle of the street during heavy winds and sideways rains must have been a sight.
Hurricane Ida is still working its way through the country, but its winds have slowed down to 35 mph, reducing it to a tropical depression over northern Mississippi by Monday night.
The governors of Louisiana, Mississippi and Alabama each declared a state of emergency in advance of Ida's landfall, and several parishes in southeast Louisiana were under mandatory evacuation orders. The city of New Orleans, which was devastated by Hurricane Katrina, did not order mandatory evacuations as its mayor said it was "too late" by Friday night.