Video Shows Mexico City Police Rescue Cat From Mayor's Burning Office
A police officer in Mexico City rescued a trapped cat from a burning building after authorities evacuated about 35 neighboring people from the blaze. The fire took place March 19 in a space identified as the mayor's office in Benito Juarez, a southern borough within Mexico City.
The events began unfolding when authorities were alerted by radio of a fire in a building in the San Juan neighborhood, read a statement from the Banking and Industrial Police of the Secretariat of Citizen Security of Mexico City.
"Upon arrival, the soldiers cordoned off the area and supported the evacuation of around 35 people. With the support of neighbors who provided buckets of water, [the soldiers] began work to try to put out the flames," the statement said.
Video released by Mexico City Police begins with officers tossing water from buckets into a window bursting with flames. The images then cut to an undetermined time later, when officers are seen passing though a bookcase-lined room searching for anyone else who might still be in the still-smoking building.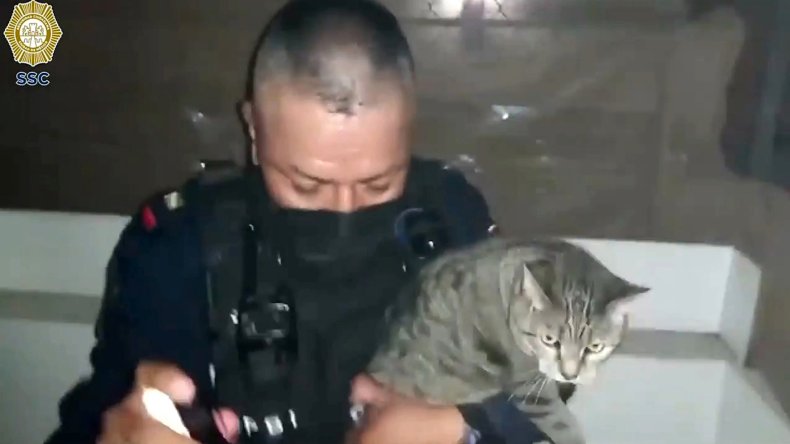 The video ends with a masked police officer finding a cat and carrying it in his arms to another rescue worker who takes the feline out of the building. Authorities had been alerted to be on the lookout for a cat by an unnamed 63-year-old man, who told rescuers that his pet had been left inside one of the buildings.
A second cat was also retrieved from the house. It was unconscious and later pronounced dead due to smoke inhalation, authorities said. No humans were injured in the blaze, which was put out by firefighters who arrived shortly after the police.
It is unclear how the fire started; that investigation is continuing.
Members of the Banking and Industrial Police of the Secretariat of Citizen Security of Mexico City coordinated emergency support to put out the fire, the Mexican Secretariat of Citizen Security said in a statement.
The area where the blaze occurred is named after Benito Pablo Juárez García, who served as the 26th president of Mexico from 1858 until his death in 1872. It is one of the 16 boroughs into which Mexico City is divided, and a fast-growing, largely residential area with a population of 434,153 in 2020, according to DataMexico, a joint effort between the Ministry of Economy and Datawheel. Benito Juárez is located just to the south of Mexico City's historic center.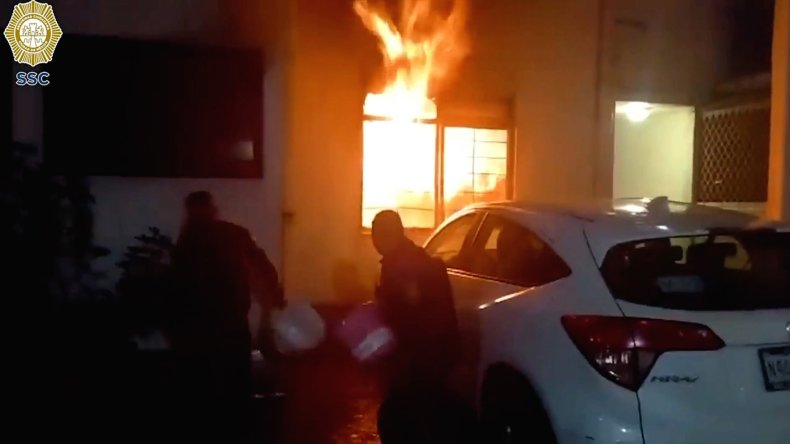 This story was provided to Newsweek by Zenger News.