Video Shows Militiamen Training for Gretchen Whitmer's Alleged Planned Kidnapping
A judge released video, photo and text message evidence to media outlets this week—with a clip showing one of the militiamen who allegedly planned to kidnap Michigan Gov. Gretchen Whitmer last year training for the alleged plot with his weapon.
In early October of last year, the FBI announced the arrest of 13 men it alleged were planning to abduct and potentially assassinate Whitmer, a Democrat, due largely to her administration's stringent COVID-19 restrictions. Western District Magistrate Judge Sally Berens allowed for some of the evidence presented by prosecutors against Barry Croft of Delaware, a defendant in the case, to be released to several midwestern media outlets.
Footage broadcast by ABC News affiliates WXYZ-TV Detroit and WLS-TV Chicago shows a man, who prosecutors identified as Croft, shooting a semi-automatic assault rifle in a training exercise. In the clip, the man—along with others—fires his gun at various targets as he maneuvers behind different barricades to shield himself. Photos released to the media show Croft holding his weapon in various positions as well.
In a text message chat, Croft also shared a photo of what is reportedly a bridge near Whitmer's vacation home. According to WLST-TV Chicago, prosecutors allege Croft and the others planned to blow up this bridge as part of their plot to target the Michigan governor.
Joshua Blanchard, an attorney representing Croft, told The Detroit News in a statement that the hearing where the recording and photos were presented took place "before we had an opportunity to investigate the government's claims." He said he was "looking forward to presenting all of the facts to a jury this fall."
Blanchard had attempted to prevent the release of the evidence, arguing it would potentially impact the jury pool when the trial moves forward in October. "Because of the high-profile nature of the proceeding and significant media attention it has received, releasing the exhibits before their admission at trial poses a risk of tainting the jury pool," the lawyer wrote.
Croft, according to the photos, appears to associate himself with the Boogaloo movement. In one photo, he is seen holding a flag for the group. The Southern Poverty Law Center says that the far-right movement supports the start of a civil war to overthrow democracy.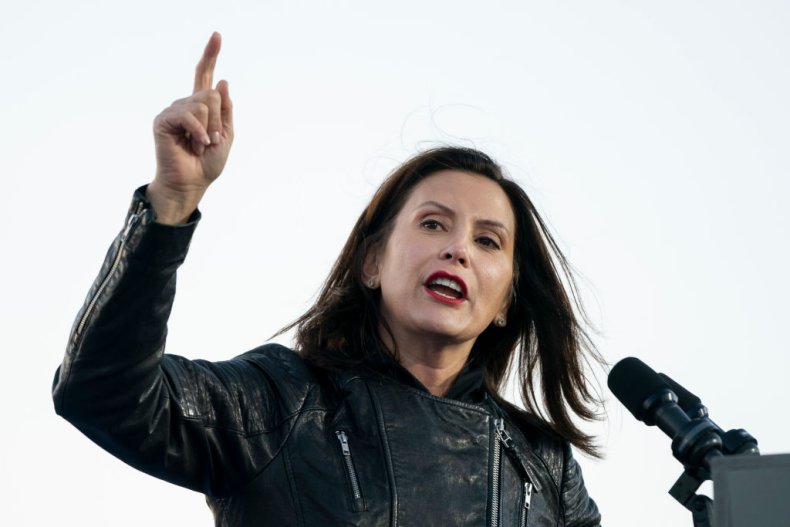 "Boogaloo adherents support civil war and revolution against the current democratic system – something they often discuss sparking by forcing violent confrontations with members of law enforcement," a January report from SPLC explained.
Newsweek reached out to Whitmer's office for comment but did not immediately receive a response.