Video Shows Mom and Child Being Kicked Out of Restaurant Over New York Vaccine Mandate
A recent video showed officers removing a mother and child from a New York restaurant because they were unable to provide proof of COVID-19 vaccination.
The video, which was posted across social media, begins by showing a New York City Police Department (NYPD) officer walking up to a table and telling a young child's mother that if he doesn't have a COVID-19 vaccine card, he must leave.
A person behind the camera can be heard criticizing the NYPD officer, saying, "scaring a child. Traumatizing a child. Hope you feel good about yourself NYPD."
"This is disgusting. This is gross," the person says. "Disgraceful. You failed yourself, NYPD, you failed yourself."
As the video continues, the mother gathers her child's belongings and begins to leave as several other patrons at the restaurant continue to criticize the police.
Another NYPD officer tells patrons that "unless you have [COVID-19] vaccination cards, you have to exit the restaurant."
The officer continues, "if you leave voluntarily you will not have charges pressed against you. Otherwise, you will be arrested for trespass. This will be your only warning."
It is unclear exactly when and where this incident shown in the video took place, but the video appears to be taken at an Applebees in the Queens Center Mall where a protest recently took place against the city's COVID-19 vaccine mandate.
When asked about the incident caught on video, an NYPD spokesperson provided Newsweek with information about the protest at the Applebees location, where several individuals entered the location without masks and refused to show their COVID-19 vaccine cards on December 15.
"Upon arrival, officers were informed by the manager that individuals entered, refused to prove vaccination status in compliance with NYS Mandate and requested for the individuals to be removed from the location," the NYPD spokesperson said.
The spokesperson added that four individuals were arrested following the protest and were charged with criminal trespass. The individuals seen in the video of the mother and child were not arrested.
Newsweek followed up with the NYPD to confirm that the incident on video occurred on the same date as the December 15 protest but did not receive a response in time for publication.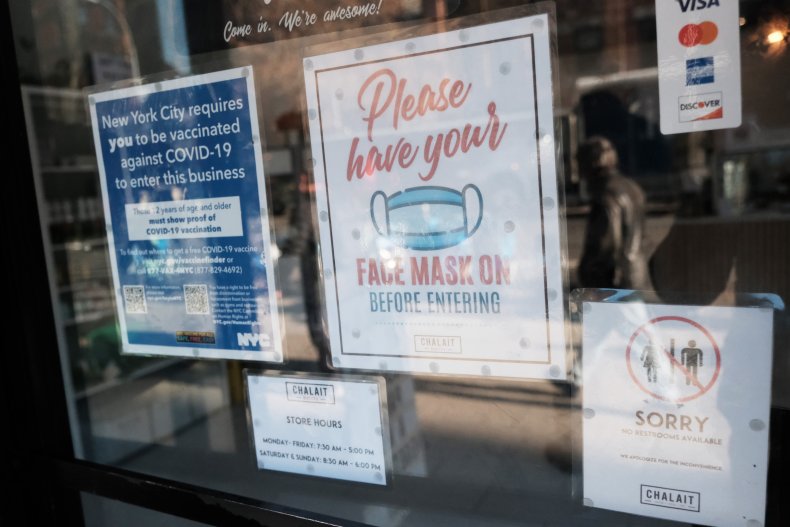 Earlier this month, New York City Mayor Bill de Blasio announced a new COVID-19 vaccine mandate for private businesses, requiring children aged 5-11 to show proof of one vaccination dose. The mandate went into effect on December 14 and was followed by another similar mandate, requiring patrons aged 12 and older to show proof of two vaccine doses. This second mandate went into effect on Monday.
The newest COVID-19 vaccine mandate sparked protests on Monday night at a Burger King in Brooklyn. The NYPD told Newsweek that officers were called after several protesters were seen inside the Burger King location not wearing masks and refusing to show proof of COVID-19 vaccination.
Five protesters were arrested by officers on Monday night and charged with trespassing and remaining unlawfully inside the Burger King location.