Video Shows Moment Citi Bike Explodes After Being Hit by New York Subway Car
A video posted across social media captured the moment a Citi Bike exploded after being hit by a subway car in New York City.
The video, posted to Instagram by the SubwayCreatures account on September 20, shows the bicycle lying on the subway tracks at the Steinway Street Subway Station in Queens. The person filming the video can be heard saying "oh no, no, no, no" as they wait for the train to approach.
The train collides with the bike as it rolls into the station, causing a loud explosion and a flash of sparks that sends bystanders running. Smoke billows from the tracks and fills up the station as the subway grinds to a halt.
Citi Bikes are bicycles available for rental across New York City's five boroughs and are used by thousands of residents and tourists every day.
A spokesperson for the New York City Police Department (NYPD) told Newsweek that the incident occurred on Sunday, September 19 at around 10:25 p.m. local time. The NYPD had received a report of "reckless endangerment" at the Steinway Street Subway Station.
"The report states an unknown male rolled a Citi Bike onto the roadbed on the southbound platform," the spokesperson said.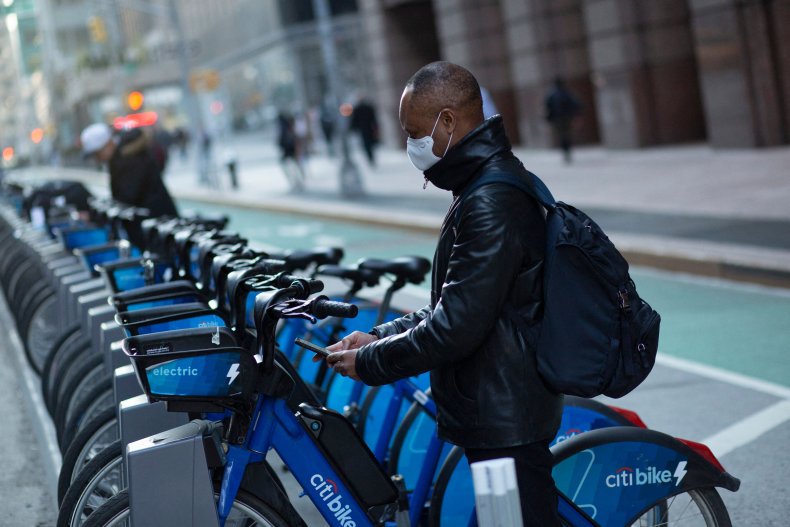 They explained that when the train made contact with the Citi Bike, it was forced to engage its emergency brake, "causing a substantial risk of injury and smoke condition."
Police have not made any arrests yet and the investigation into the incident is ongoing, the NYPD confirmed.
A spokesperson for the Metropolitan Transportation Authority (MTA), Tim Minton, told Newsweek that two different trains, traveling in different directions, hit parts of the Citi Bike left on the tracks. The Citi Bike was first struck by the Manhattan-bound R train at around 10:22 p.m. local time. A few minutes later, the Citi Bike was hit again, this time by the Forest Hills-bound R train. Both trains were forced to deploy their emergency brakes after striking the bike, according to the MTA.
"This was an attack on all of New York City that took place in the transit system," Minton said in a statement sent to Newsweek.
"And the miscreants who threw that bike in the path of an oncoming train should be prosecuted for their reckless disregard for the safety of subway riders and workers," he added.