Video Shows Moment Gunman Opens Fire on Pedestrians in Front of New York City Deli
A video clip shared by the New York City Police Department (NYPD) on Tuesday showed the moment last month when a person with a weapon approached a group of individuals outside a deli in Harlem and began firing.
NYPD Crime Stoppers shared the 12-second video clip Tuesday morning on its social media pages. Four individuals were injured in the incident, which occurred on November 15 at about 8:16 p.m. local time. None of the wounded individuals were critically injured, the NYPD told Newsweek.
The NYPD shared the video to encourage anyone with information about the shooting to contact police. No arrests had been made in connection with the shooting by midday Tuesday, the NYPD told Newsweek.
Police said the shooting occurred at 621 Lenox Avenue, which is in upper Manhattan a few blocks west of the Harlem River. The incident occurred in the jurisdiction of the NYPD's 32nd Precinct, police said.
The person with the weapon "discharged a handgun multiple times striking four victims," police said.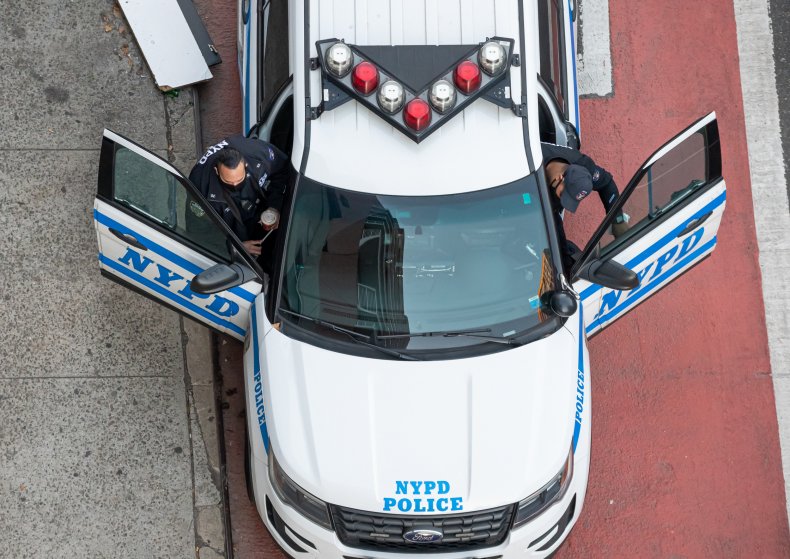 In the video shared by police, a person dressed in dark-colored clothing can be seen walking past a parked white sedan while approaching a group of five individuals. The group appears to be gathered together on the two steps leading up to the store's entrance, with some perched on the stair railing.
The video then shows the person with the weapon quickly raising their right arm. The person appears to point the weapon at the group before they begin firing. Some of the individuals in the group scatter off the steps and run away from the store, while others can be seen diving to the ground. The person with the weapon can then be seen backing away before turning around and taking off at a run in the opposite direction.
According to The New York Daily News, the shooting occurred right outside 141 Grocery Inc. An unnamed store employee told the Daily News there were an estimated 10 shots fired.
"Some of the guys who were hit came running into the store. One was lying outside," the employee told the paper. "I hit the floor because this isn't bulletproof glass. When I got up there was blood all over the floor."
The person who fired the weapon is wanted for assault, according to police. Authorities are offering a reward of up to $3,500 for tips about the shooting and encouraged anyone with information to contact NYPD Crime Stoppers. Anonymous tips are also welcome, police said.