Video Shows Moment NYC Man Is Stabbed, Slashed by Seven Individuals
A new video shows the moment a man in New York City was attacked by a group of seven individuals who stabbed and slashed him, according to police.
The video, which was released by the New York Police Department (NYPD) Crime Stoppers Twitter account, begins by showing a man walking alone near 315 W 44 St. in Manhattan.
As the video continues, an individual runs up behind the man, holding an unknown object. The individual then strikes the man with the object in the back, leaving him to fall to the ground. The suspect runs away from the scene.
While the man is still lying on the ground, a group of six individuals, including the person who initially struck him, rush toward him. As the group circles the man and begins to attack him, a seventh individual runs toward the scene and joins in.
A spokesperson for the NYPD told Newsweek that the incident occurred on Wednesday, November 10 at approximately 5:37 a.m. local time, within the confines of the department's Midtown South Precinct.
According to the spokesperson, the group of seven "unidentified males approached and the victim was stabbed and slashed multiple times."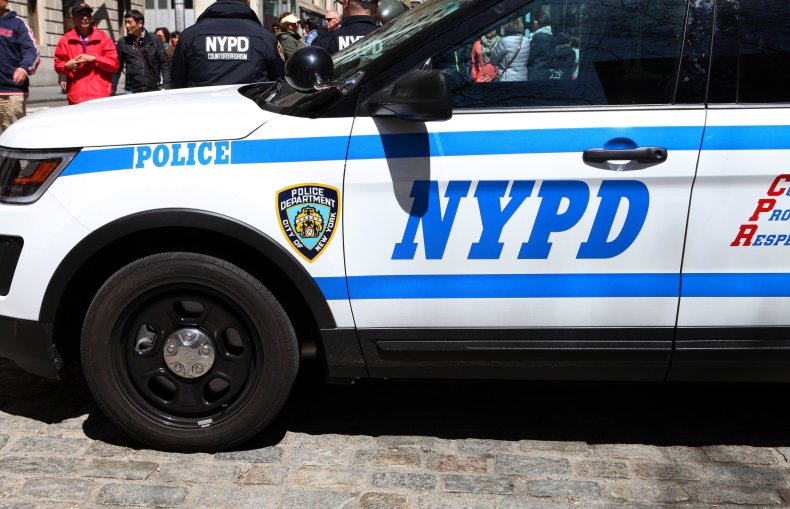 Shortly after stabbing and slashing the man, the group of unidentified individuals can be seen running away from the scene.
The 62-year-old victim sustained "stab and slash wounds to his body, head and nose," according to the NYPD spokesperson. He was then transported by emergency medical services (EMS) personnel to NYC Health + Hospitals/ Bellevue in "critical condition." He was eventually "stabilized" after being treated for his injuries at the hospital.
Another portion of the video released by the NYPD shows the group walking down a different street and zooms in on two of their faces.
The NYPD has not made any arrests in connection with the incident and released the video in hopes that the public will help identify the attackers.
"Anyone with information in regard to this incident is asked to call the NYPD's Crime Stoppers Hotline at 1-800-577-TIPS (8477)," the NYPD spokesperson told Newsweek. "The public can also submit their tips by logging onto the Crime Stoppers website at https://crimestoppers.nypdonline.org/ or on Twitter @NYPDTips."
According to data from the NYPD, over the past year, the number of felony assaults has increased by roughly 8.3 percent when compared to 2020, while the number of misdemeanor assaults has increased by 7.4 percent during the same time period.