Video Shows Moment Shots Break Out on Bourbon Street in New Orleans Shooting
A shooting rocked New Orleans' famed French Quarter destination, Bourbon Street, at around 2:00 p.m. local time on Sunday morning. Authorities report no casualties at this time, with five people being shot and sent to the hospital for their injuries, according to CNN.
A video posted on Twitter by journalist Nikhil Choudhary of India Times Now shows the moment the shooting began. A little over five seconds into the security camera footage, taken from the Cat's Meow Karaoke Bar, people abruptly begin fleeing in panic from something offscreen. A vehicle is also seen, seemingly attempting to make a quick escape from the scene, but blocked by running pedestrians.
Police have not released any specific information about the condition of the victims at this time. One suspect has been taken into custody in relation to the shooting, but it is unclear how they are connected to the incident.
As of 4:52 a.m. ET, the New Orleans Police Department (NOPD) said on Twitter that the investigation into the shooting was active and ongoing.
Newsweek reached out to the NOPD for comment or update on the shooting but did not hear back before publication time.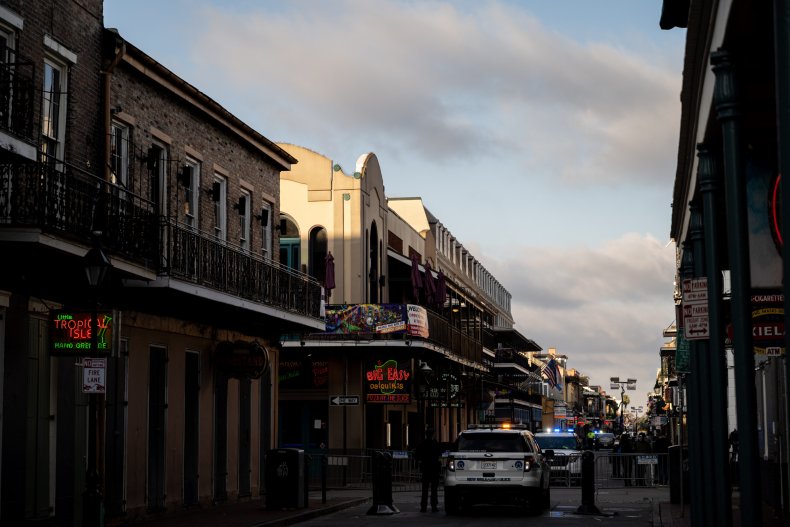 Police also responded to another shooting in the Treme area of New Orleans, less than a mile from Bourbon Street, around 4:40 a.m. the same night. The incident left four people injured. One of the victims, a juvenile male, later died from his injuries at the hospital. Local New Orleans news station WWLTV reported that the other victims are in stable condition.
Motives for this second shooting are also not known at this time. The NOPD has no plans to hold a press conference about either incident on Sunday.
ABC News reports that New Orleans has seen a surge in violence similar to other metro areas in the U.S. The city has reported over 250 shootings and over 100 homicides so far in 2021. These numbers already dwarf the entirety of 2020, which saw 195 homicides. While significant, the surge could potentially be a result of COVID-19 lockdowns being lifted.
New Orleans Mayor LaToya Cantrell announced the creation of an Office of Gun Violence Prevention in April. The office aims to develop ways to mediate conflicts and prevent shootings before they happen, and to provide job training for the city's young people.
"Nothing stops a bullet like a job," Cantrell said.