Video Shows 'Mothership' Storm Hovering Over Northwest
Storm chasers on Friday released stunning footage of a massive "mothership" storm cloud hovering over the Northwest part of the United States.
The video was captured near Lansford, North Dakota, a little before 9 p.m. local time by storm chaser Shelly Heinrichs, who is based in the neighboring province of Manitoba, Canada. Heinrichs shared the footage on Twitter where it has been viewed a little over 186,000 times as of Monday afternoon.
The storm cell dominates almost the entire frame of the video, with the Weather Channel describing it as looking like "a UFO about to land on Earth."
As the Weather Channel explained in its report, supercell storms with multiple "stacks," as seen in Heinrichs' video, can produce strong winds, massive hail, and tornadoes. Despite these dangers, the storm in Lansford ultimately did not result in a tornado.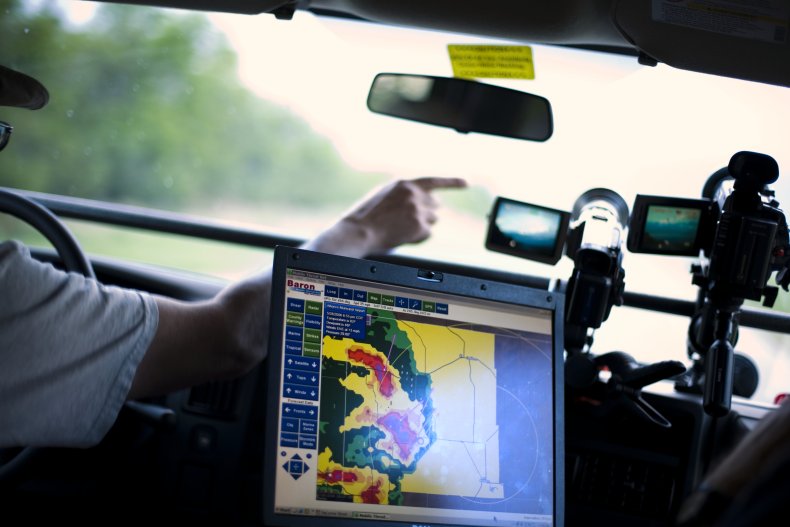 The storm caught on camera by Heinrichs was initially forecast by the National Weather Service's (NWS) regional branch in Bismarck, North Dakota. Severe thunderstorm warnings were issued by the organization, which warned about winds and hail. In the northeast and central regions of the state, winds were forecast to reach 70 miles per hour (mph) with golf-ball-sized hail possible, while towards the south and southeast winds were expected to reach 60 mph with quarter-sized hail possible. Only a few regions had warnings that indicated that tornadoes were possible.
"[Two] separate threats for isolated severe storms exist this afternoon into Sat morning," NWS Bismarck tweeted Friday. "Greater concern is from north central into northeast ND this afternoon & evening. Storms there will be capable of larger hail & stronger winds than those that form farther south overnight."
More recently, severe thunderstorms have been forecast to hit broad swaths of the Midwest, mid-Atlantic, and Northeast on Monday, according to AccuWeather. This comes as a cold front moves eastward through the regions, which have been experiencing a prolonged summer heat wave in recent weeks. Just like in North Dakota on Friday, these storms could potentially result in sizeable hail and tornadoes.
"As the cold front responsible for the unsettled weather tracks eastward, severe storms are forecast to erupt along the heavily populated Interstate 95 corridor," AccuWeather reported. "While the storms are set to bring an end to the scorching heat wave that is ongoing in the region, it will come with a threat of damaging winds, hail, and perhaps even a tornado."
These storms will potentially put 52 million residents at risk, stretching from Maine to as far south as parts of Virginia. Tornado warnings have already been put into effect for parts of Pennsylvania, though none have reportedly touched down as of Monday morning.
Newsweek reached out to the National Weather Service for comment.