Video Shows Mountain Lion Stalking Kids in California Neighborhood
Video footage captured a scary sighting of a mountain lion over the weekend as it watched children riding their bikes in a California neighborhood.
Timothy Kerrisk, a resident of Pacifica, a coastal city just south of San Francisco, caught the animal on camera and uploaded the video to YouTube Saturday. The 30-second clip shows the mountain lion crouching in front of Kerrisk's front gate, presumably watching the kids. It then walks through Kerrisk's yard and leaps over a side gate to take refuge underneath the man's truck.
"I thought it was somebody's dog that had gotten into the yard, and I was like, 'Hey, get out of here!' Then it turned, and that's when I was like, 'Oh my God! It's a mountain lion!'" Kerrisk told KRON-TV.
The video, which has been viewed more than 100,000 times, has no sound because "it's just me yelling for the neighbor across the street to come down and grab the kids," Kerrisk said while responding to another user in the comments section.
"I started yelling at the kids, 'Get inside! Get inside! Get inside!' And it came back towards me, and it was still watching the kids, jumped over the gate right here," Kerrisk told KRON-TV.
Eventually, Kerrisk had to come out of his house and chase the big cat out from underneath his car and over the hill, he said. Kerrisk's neighborhood backs up to a wooded area full of wildlife, according to KRON-TV.
Andrew Mooney, Kerrisk's neighbor, has surveillance cameras that caught another glimpse of the animal. Pacifica has "a lot of sightings of mountain lions," Mooney told KRON-TV, but this one was "well-fed."
Justin Dellinger, a mountain lion researcher with the California Department of Fish and Wildlife, told Newsweek that after reviewing Kerrisk's video, the mountain lion appeared "very young." Kerrisk did the right thing by yelling and alerting his neighbors of the animal's presence, but from a behavior standpoint, the big cat didn't seem to have the intention of harming people, Dellinger said.
The mountain lion's body language, such as its raised ears that were turned forward, serves as an indicator that it didn't have any ill intent toward people, Dellinger said. Instead, the animal seemed to recognize it was in an unfamiliar environment, as indicated by its move of seeking cover underneath the truck, he said.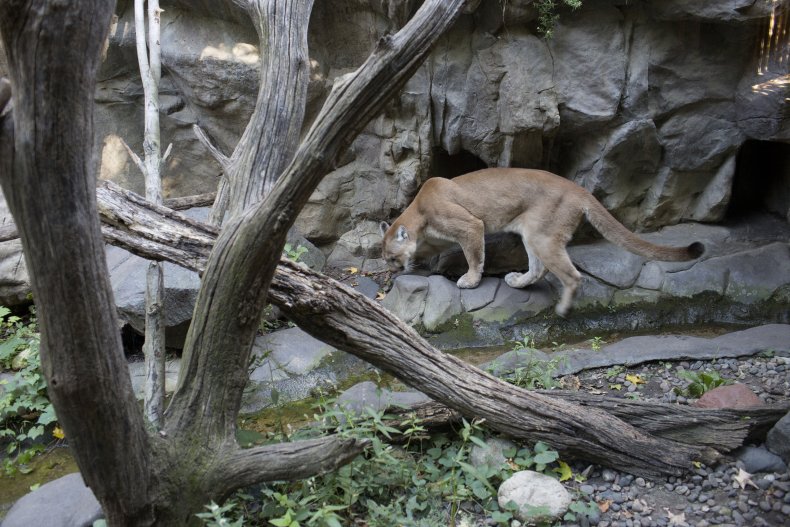 The Bay Area has seen a sharp increase in mountain lion births this summer, according to Skyline College's student newspaper. Experts, however, have seen evidence of this in only one local area.
Officers working in the Santa Monica Mountains, located closer to Los Angeles, have been conducting an intensive study on mountain lions for years, Dellinger said. A fair amount of their collared female lions have given birth this summer, he added.
But San Mateo County residents, where Pacifica is located, have reported sightings in different areas, with some occurring several times throughout the day. Unless there's video footage, it is difficult to determine whether people actually saw a mountain lion or whether sightings truly have increased, Dellinger said.
With the high amounts of wildfire activity seen across California this summer, residents should expect more unusual animal sightings than normal, Dellinger said. Creatures such as mountain lions could become displaced from their typical habitats and attempt to seek shelter elsewhere.
One mountain lion was seen in San Francisco's Russian Hill neighborhood. Officials confirmed that a vehicle struck and killed it on Highway 1 in Pacifica in early July, the Skyline College student newspaper reported.
Mike Watkins of Pacifica was examining the footage on his newly installed security camera on August 29 and saw a mountain lion pacing the steps of his home before hopping over a fence, KABC-TV reported.
According to the state's fish and wildlife department, three nonfatal mountain lion attacks have occurred in 2020. The most recent incident occurred in June at the Blue Sky Ecological Reserve in San Diego County, where a 4-year-old boy was injured.
Mountain lion attacks are quite rare, according to the department. Statistics show that a person is 1,000 times more likely to be struck by lightning than to be attacked by a mountain lion, but people living in common habitats for these animals can take precautions.
The department recommends that homeowners deer-proof their landscape, which helps avoid attracting deer—a mountain lion's main food source. Removing dense vegetation from around the home and installing outdoor lights can help make it more difficult for a lion to approach unseen, the department says.
If a human does encounter a mountain lion, Dellinger recommended they try and make themselves look big, give the animals its space and slowly try and remove themselves from the situation.
Update (09/22/20, 1:16 p.m.): This article has been updated to include comments from Justin Dellinger, a mountain lion researcher with the California Department of Fish and Wildlife.