Video Shows Neighbor Shouting Racist Comments at Chinese Family's Front Door in San Jose, California
Porch camera video recorded outside a San Jose, California, couple's front door two weeks ago showed a neighbor shouting anti-Asian slurs and accusing them of "bringing COVID-19" to the United States.
Huang Zhu and Ying Huang, a San Jose couple who moved to the U.S. from China decades ago, told KGO-TV that they are looking to bring neighborhood awareness to the hateful incident caught on video.
After first believing that it was a UPS driver who was banging on their front door, the couple realized it was a neighbor wearing a mask and a San Jose Sharks hat who was shouting racist accusations.
San Jose police told local anchor Dion Lim that the irate neighbor who was seen screaming anti-Asian slurs was arrested for elder abuse of his father and that the incident involving the couple is being investigated as a potential hate crime.
"He punched our door for at least 100 times and after that he was ringing the bells like another hundred times and was screaming, 'Go back to China,'" Ying told the local news station Monday. "We've been here for over 20 years. We haven't experienced anything close to this. We had our education here and we worked hard. We haven't had problems with anyone."
"You brought COVID-19 here," the man can be heard repeatedly screaming into the couple's front door.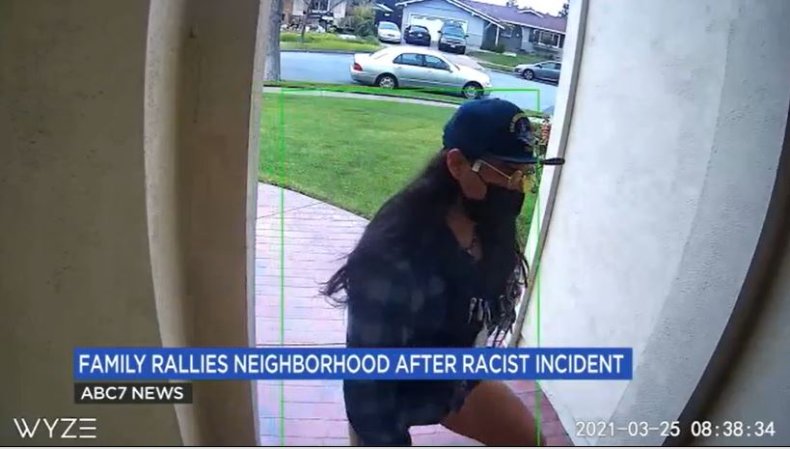 One clip of the video depicts the neighbor screaming into the couple's door, "I said it's your neighbor, open the door! You... Communist China! Open the door right now! Communist China! You f**king Commies! This is America! It's not f**king (inaudible)."
The couple said they are in the process of filing a restraining order against the man who was in the video and they are being encouraged with support by their neighbors.
The couple published the video on the NextDoor app in order to inform local residents of the hateful incident which occurred late last month.
This is the latest incident of anti-Asian hate covered the media in the Bay Area, where last week an 83-year-old man warned others to "be careful" after he was allegedly attacked along Market Street and 7th in downtown San Francisco, according to KGO.
One of the San Jose couple's sons was petrified by the incident, which they described to the local TV station as heartbreaking.
"He asked me, 'Mommy, did I do this because I watch too much iPad and he's here to punish me?' I didn't know what to say. I said, 'You did nothing wrong, we did absolutely nothing wrong,'" his mother said Monday.
Newsweek reached out to local police for additional comments about the charges pending against the neighbor Monday afternoon.