Video Shows Nevada Town With Eerie Red Glow During Caldor Fire: 'Did I End Up on Mars'
A video has surfaced showing the widespread impact of Northern California wildfires that have destroyed homes, schools, and businesses.
On Tuesday, Instagram user @mcfooden shared a video of his neighborhood which is engulfed in an encompassing red hue. "Did I end up on Mars? Don't remember leaving earth," said the Nevada resident.
Two previous videos on his Instagram page show the progression of the neighborhood's appearance, altered due to the current Caldor Fires in California.
The Caldor Fires, which began on August 15, have destroyed every home in the California town of Grizzly Flats, which is a forest community that houses 1,200 people, according to The Associated Press. A post office and elementary school were also reduced to ashes while downed power lines and poles were scattered across the area.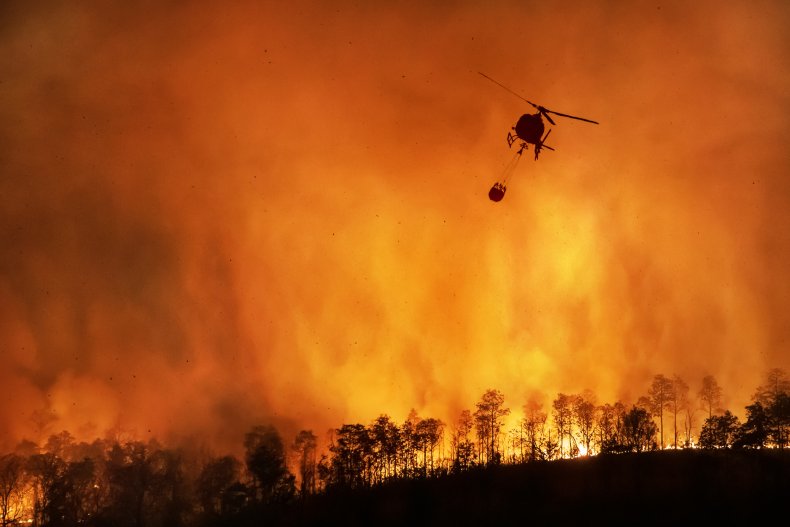 Fire officials estimate that nearly 50 homes have been destroyed while two people were hospitalized with serious injuries.
Grizzly Flats resident Derek Shaves visited his neighborhood on Tuesday, after evacuating on Monday. When he returned, he told The Associated Press that his house was completely decimated, due to the wildfire.
"It's a pile of ash," Shaves said. "Everybody on my block is a pile of ash and every block that I visited—but for five separate homes that were safe—was totally devastated."
The Caldor Fires is one of 12 wildfires that are ravaging across the state of California.
On Wednesday, The California Department of Forestry and Fire Protection (Cal Fire), announced that more than 10,300 firefighters are currently battling the 12 wildfires.
In addition, 766 engines, 172 hand crews, 272 bulldozers, 269 water tenders, and 48 helicopters are working to quell the flames. Cal Fire stated that fires have burned nearly 1.3 million acres of land.
The Dixie Fire is the largest fire that firefighters are working to contain. Since the fire started on July 14, it has spread to four counties including Butte, Plumas, Lassen and Tehama.
The Dixie Fire has destroyed 635,728 acres, 1,200 structures and 16,000 more are in danger of being burned down. Currently, there aren't any civilian or firefighter injuries, according to Cal Fire. The Dixie Fire is the second-largest wildfire in California history.
Governor Gavin Newsom proclaimed a state of emergency in El Dorado County, and authorities could potentially close the entire El Dorado National Forest.
"We know this fire has done things that nobody could have predicted, but that's how firefighting has been in the state this year," El Dorado National Forest Supervisor Chief Jeff Marsolais said at a briefing.