Video Shows News Chopper Plunging to Ground, Killing Pilot and Passenger
Disturbing videos show a helicopter spiraling to the ground and bursting into flames after its tail rotor detached from the aircraft.
Police in Rowlett, Texas, said two people died after the 11:30 a.m. Friday crash. Further details, which are being investigated by federal agencies, have yet to be released. Videos posted online show the harrowing wreck outside of Dallas and its aftermath.
WFAA reporter Matt Howerton posted a video of the helicopter tumbling from the sky.
In a followup tweet, Howerton said the pilot of the helicopter did not survive the crash, and the National Transportation Safety Board is taking the lead on the investigation.
"This video—will likely play a HUGE part in their investigation," he said.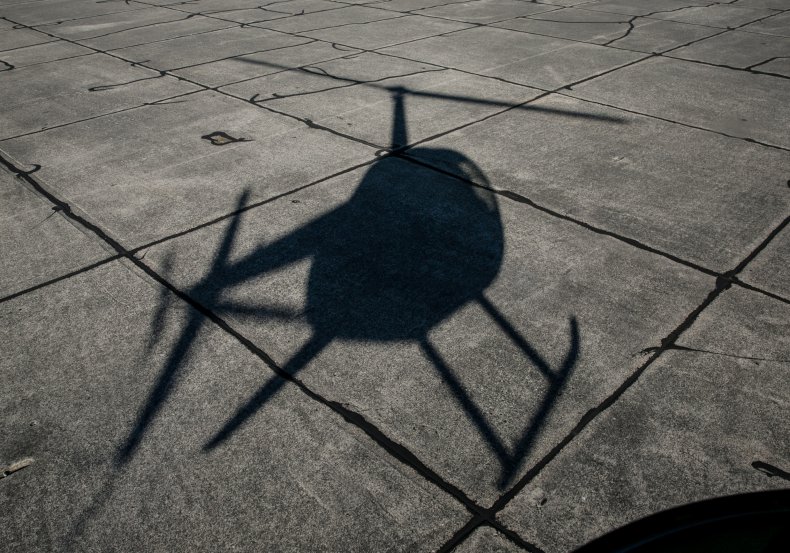 The pilot and passenger were killed when the Robinson R44 copter went down, reported WFAA, citing the Federal Aviation Administration. It crashed in an open lot surrounded by businesses. The victims have not been identified.
The aircraft was owned by Sky Helicopters, a North Texas-based helicopter company that sometimes contracts with the station for aerial coverage, according to WFAA. It's not clear what the craft was doing before the crash.
A doorbell camera also captured the wreck. The video, obtained by WFAA, shows the helicopter plummeting to the ground and erupting into flames and smoke.
Witnesses told KXAS-TV that something seemed off with the copter before it crashed.
"We seen the helicopter going real slow and my wife says, 'man, that doesn't look right,'" witness Scott Ussery told the station. "It started swinging a little bit and going down lower and it started going out of control."
Joseph Kasper described to WFAA that he was working at a nearby mechanic shop when the helicopter crashed about 40 feet away. He told the station he saw it hover as its tail rotor appeared to break midair. The aircraft remained fluttering, before falling straight down and catching fire on the ground, he said.
People working at a nearby business saw the crash's smoke and tried to put out the fire with extinguishers, reports KXAS.
"We couldn't get too close because of heat and the blaze," Andrew Reyna told KXAS.
Video of the aftermath shows grass scorched black near tarps cordoning the debris. The copter's tail rotor was seen on top of a building.
The National Transportation Safety Board and Sky Helicopters told Newsweek in an email that an investigator will arrive in the area Friday and survey the crash site Saturday morning.
WFAA declined comment to Newsweek.