Orthodox Jews who gathered in close proximity for a street party celebrating a religious holiday refused to comply with orders to disperse by officers from the New York City Police Department (NYPD).
Videos appeared on social media showing NYPD attempting to move the crowd on Monday night, who were largely failing to wear masks or observe any kind of social distancing amid the COVID-19 pandemic. The crowd was celebrating Sukkot, which began last Friday night and ends this Friday.
The crowd gathered in the Brooklyn neighborhood of Crown Heights resisted and NYPD ultimately failed to disperse the crowd, with no arrests being made and no fines issued.
The incident happened on the same day that New York Governor Andrew Cuomo announced new restrictions in response to a fresh surge of COVID-19 cases, with many affected areas having particularly large populations of Orthodox Jews.
"Orthodox Jewish gatherings often are very, very large and we've seen what one person can do in a group," Cuomo said during a Monday news conference, referring to an Orthodox Jewish man believed to be a "super spreader" responsible for hundreds of infections.
"Mass gatherings are the super spreader events," Cuomo continued. "We know there have been mass gatherings going on in concert with religious institutions in these communities for weeks... I'm talking about you're only supposed to have 50 outdoors, [but] they had 1,000... You don't see masks and you see clear violation of social-distancing."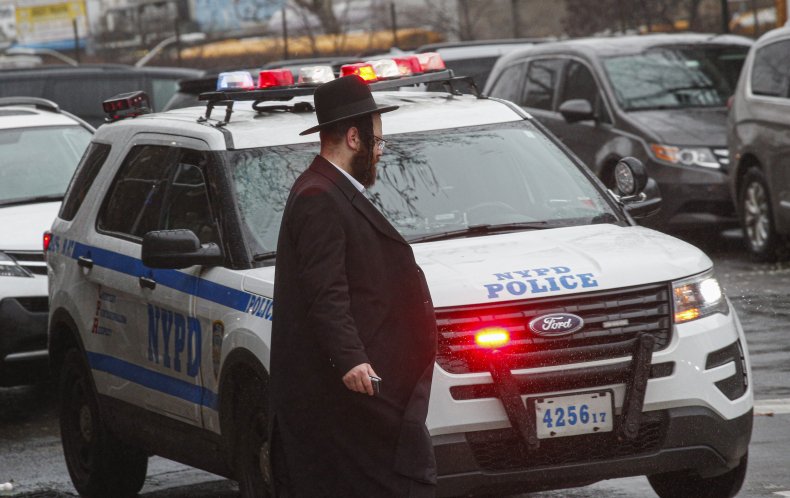 New York City Mayor Bill de Blasio has also warned of low adherence to preventative measures in Orthodox Jewish communities, suggesting it could be a factor driving the surge. De Blasio recently distributed masks to neighborhoods while asking police to place particular attention on enforcing the citywide restrictions in areas with low compliance. He promised a $1,000 fine would be levied against those who refuse.
"Anyone who refuses to wear a face covering will be told that if they don't put one on, they will be fined. And anyone who still refuses will be fined. That will happen aggressively," de Blasio said during a briefing last week. "We don't want to fine people. If we have to, we will."
Some Twitter users sharing video of Monday's incident accused police of going too easy on Black Lives Matter protesters in comparison, with at least one accusing de Blasio of personally "literally 'rounding up the Jews.'" Others were more critical of those gathering, with one blasting the group for being "insane" for gathering closely without masks in light of the health risks posed by the pandemic.
Over 250,000 people have been diagnosed with COVID-19 in New York City since the pandemic began, including more than 23,000 deaths. Although new infections slowed substantially over the summer, cases they have started to rise again, with a testing positivity rate surging above 10 percent in some of the hardest-hit areas.
Newsweek reached out to de Blasio's office for comment.