Video Shows Packed Kyiv Train Station as Thousands Move to Flee Ukraine
Footage posted Tuesday online by a Ukrainian film director/producer shows an urgent scene at a train station of thousands of people desperately trying to flee the capital city of Kyiv.
Tatiena Stanieva shared multiple videos on Facebook in a post that also contained a long description of her experience at the Kyiv-Pasazhyrskyi train station. She wrote that she had tried to get to Izmail, a city on the Danube River in southwestern Ukraine, but her train was canceled.
Stanieva said she felt "powerlessness" and "fear" at her failed attempt to leave. She wrote that she "covered my face with my hands and began to sob."
The United Nations refugee agency has warned Europe could face its "largest refugee crisis this century" from the Russian invasion that began early last Thursday. More than 874,000 Ukrainians have already escaped to neighboring countries, the U.N. reported on Wednesday. Many others have moved within the country away from cities being attacked.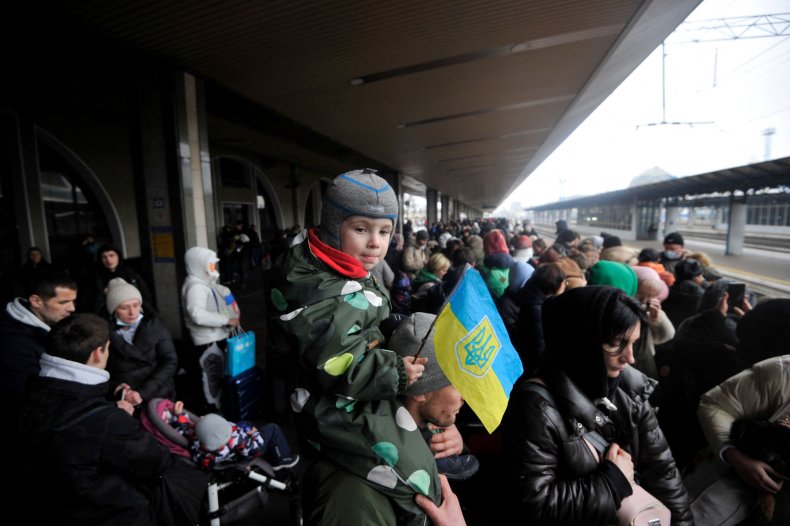 Last week, Reuters reported that United Nations aid agencies warned that up to 5 million people could flee Ukraine as fuel, cash and medical supplies become more scarce. So far, most of the refugees have crossed into Poland.
Polish Deputy Interior Minister Pawel Szefernaker told Radio ZET on Wednesday that more than 450,000 people have entered his country from Ukraine since the attack started. Others have sought safety in Hungary, Moldova, Slovakia and Romania.
Stanieva's original Facebook post was also shared on Storyful.
Stanieva wrote that she spent three hours in a traffic jam before she arrived to the Kyiv-Pasazhyrskyi station. Once there, she found a chaotic scene. In the videos, tightly packed crowds can be seen standing shoulder-to-shoulder throughout the large station.
"I have never seen such a concentration of fear, panic and horror anywhere," Stanieva wrote.
She went on to describe making her way through the crowd of thousands, which she said included children, old people, individuals with disabilities and even dogs.
After her train was canceled, Stanieva said she tried to find a bus heading out of the city, but there was "[n]ot a single seat available."
She also included some harsh words about Russian President Vladimir Putin.
"The devil has a human form. And today he looks like Putin. Our tears and suffering only feed him. That's exactly what he wanted," Stanieva wrote. "He came to steal, kill and destroy our cities and villages, our people and faith, our bodies and souls..."
Follow our live blog for updates on the Russia-Ukraine conflict.