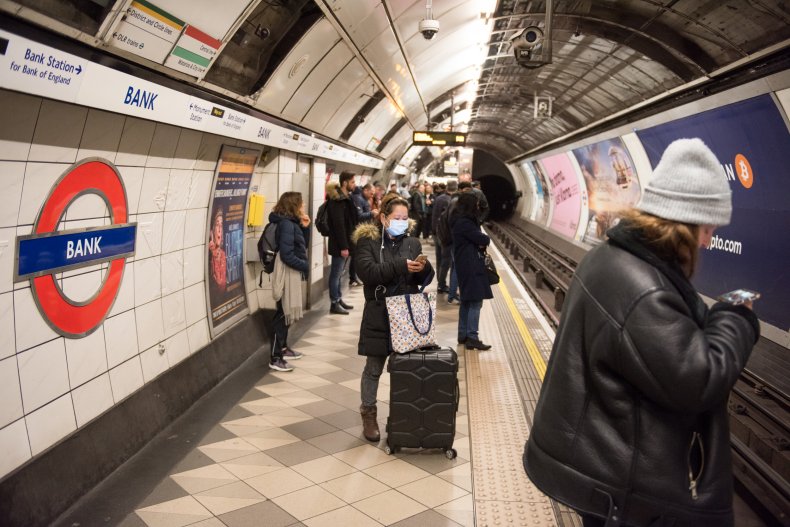 Despite the announcement of a nationwide lockdown by United Kingdom Prime Minister Boris Johnson, a new video shows London citizens filling the London Underground train system just one day after the order was given amid the global novel coronavirus pandemic.
In the video, dozens of people can be seen waiting for the train while another angle shows the car already filled with people, a situation that many are urged to avoid to prevent the spread of COVID-19, the disease caused by the new coronavirus.
The U.K lockdown went into effect at midnight on March 23, but it allows citizens to leave their homes for four reasons, traveling to and from work if it is impossible to work from home, to shop for essential items like food or medicine, to take care of health care needs -- such as a doctor's appointment. Residents can also leave home once a day for exercise.
In addition to the video, a number of pictures were posted to Twitter showing the trains packed with people despite the lockdown and calls from government officials to practice social distancing. Some of those sharing photos also called for London to shut down the trains in an effort to keep people home.
"My mate just sent me this. Tube to his construction site this morning IS STILL OPEN?! MADNESS!!!!! #shutthesites #StayAtHomeSaveLives," wrote Twitter user Rob La Squires.
"This is the London Tube this morning. Absolutely mental. CLOSE THE TUBES DOWN," wrote Twitter user LUFC Pete.
On Tuesday, London Mayor Sadiq Khan urged employers to let their employees work from home and to stop all non-essential travel.
"LONDON: I cannot say this more strongly: we must stop all non-essential use of public transport now," Khan wrote on his Twitter. "Employers: please support your staff to work from home unless it's absolutely necessary. Ignoring these rules means more lives lost."
In addition to Khan's tweet requesting a decrease in the use of public transportation, according to BBC, a local transport union called for police officers to be deployed at different stations to help stop overcrowding of trains.
While speaking to BBC, a commuter, nurse Julia Harris stated that she didn't think things have improved on the trains, "as a large amount of people are commuting early in the morning."
"It is concerning because I have to come to work," she added. "The choice isn't there and my commute is quite long. I worry for my health more on my commute than actually being in the hospital.
The novel coronavirus originated in Wuhan, China, but has continued to spread across the world, infecting over 392,000 people and causing at least 17,241 deaths, according to a tracker provided by Johns Hopkins University. In the U.K., there are over 6,733 confirmed cases and at least 336 deaths.