Video Shows Passengers Applauding as Anti-Masker Escorted Off Frontier Airlines Flight
A viral video shows a passenger getting escorted off of a Frontier Airlines flight to Tampa, Florida for refusing to wear a face covering—a violation of the airline's mask policy—and was met with cheers and applause from fellow passengers.
Footage of the incident, shared by Fox & Friends writer Griffin Frank on Twitter, shows an airline employee approaching a maskless woman and warning her that she will be removed from the flight if she refuses to wear a mask.
"Ma'am you need to have a mask on. You need to have the paper mask they provided," the employee can be heard saying.
When the passenger appeared to ignore her request, the employee adds: "You have to wear your mask the whole entire flight. If you're unable to do so, you will be removed from the flight."
When the employee begins to leave, the passenger can be heard cursing. The airline employee comes back, this time demanding that she get off the flight and noting the airline's policy on face coverings.
"You're done, let's go," the employee says. "You're getting off the aircraft. You're done, you're not going to speak to me like that. You have to comply. You agreed to this when you checked into our flight and when you bought your ticket, so I need you to get off the aircraft at this time."
When the passenger refuses, the employee can be seen walking away. A second video shows a security officer retrieving the passenger's luggage and escorting the woman out, which was immediately met with applause and a few passengers yelling, "Bye Karen!"
Frontier is one of many airlines upholding a mask policy as the coronavirus pandemic surges throughout the U.S. The airline published a clear mask policy on its website, indicating: "We require both passengers and employees to wear a face covering over nose and mouth throughout the Frontier travel experience including at ticket counters, gate areas, baggage claim and onboard all flights."
"This level of protection is important for everyone's well-being and if you don't wear an approved face covering, you may lose future travel privileges on Frontier," the policy read.
Frontier Airlines spokesperson Jennifer de la Cruz told Newsweek in a statement that all passengers must follow this policy in order to complete their scheduled flight.
"Frontier Airlines' face covering policy is clearly explained during the reservations and check-in process, during boarding and onboard the aircraft," the statement read. "Face coverings are required throughout a traveler's journey when flying with Frontier."
When asked about further repercussions for refusing to wear a mask on the flight, de la Cruz said that the passenger will be placed on Frontier's "Prevent Departure List."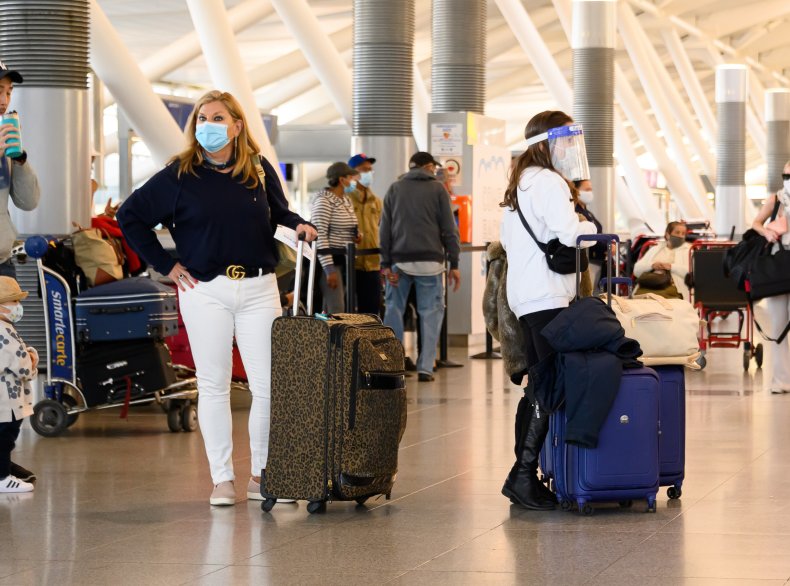 Most airlines require face coverings as the Centers for Disease Control and Prevention (CDC) continues to urge that people wear masks to combat the alarming spread of COVID-19, especially in recent months. But having policies intact doesn't mean that passengers will always comply. In October, six U.S. airlines revealed that they have banned nearly 1,500 people from flying for violating face mask policies, according to The Wall Street Journal.
Delta, Alaska and United Airlines have all banned hundreds of passengers from flying their airlines, according to memos released to employees in October, The Washington Post reported.
Last month, police were called aboard a Spirit Airlines flight after two women refused to wear masks after being repeatedly told to do so by employees and fellow passengers, according to ABC7 Chicago. On Thursday, a couple was arrested and charged with reckless endangerment after boarding a United flight to Hawaii from San Francisco after receiving a positive COVID-19 test result.
Despite warnings from the CDC for people to stay home during this holiday season, recent data shows that airports saw some of their busiest days during Thanksgiving, with the Transportation Security Administration (TSA) reporting more than 1 million passengers screened on four separate days during the holiday travel period, according to the Associated Press.
The influx in flight travel came just before the U.S. reported more than 3,100 deaths on Thursday, a grim single-day record as the nation continues grappling with the pandemic. The U.S. has also seen a steady increase in COVID hospitalizations, topping 100,000 on Wednesday and reporting more than 101,000 hospitalizations on Friday, according to data from the COVID Tracking Project.