George Floyd will be laid to rest today in Minneapolis and as the hearse carrying his body turned the corner, two officers kneeled and bowed their heads.
Floyd was pronounced dead on May 25 after officer Derek Chauvin kneeled on his neck while detaining him. A video of the altercation quickly went viral, sparking nationwide protests and calls for justice for Floyd, as well as, widespread law enforcement reform.
On Thursday, Floyd's family and friends gathered at North Central University in Minneapolis for a memorial service where Reverend Al Sharpton is expected to speak. A video posted on Twitter by Daniel Williams showed the moment Floyd's body arrived and as it passed by, two officers were seen kneeling on the corner.
Newsweek reached out to the Minneapolis Police Department for comment but did not receive a response in time for publication.
As family and friends pay their final respects to Floyd, three officers charged with his death are expected to make their first court appearance. Minnesota Attorney General Keith Ellison charged former Minneapolis police officers Tou Thao, J. Alexander Kueng and Thomas Lane with aiding and abetting second-degree murder; and aiding and abetting second-degree manslaughter on Wednesday.
The charge of aiding and abetting second-degree murder carries a maximum sentence of 40 years in prison, the same maximum sentence Chauvin faces.
"Being silent or not intervening, to me you're complicit, So I don't see a level of distinction," Minneapolis Police Chief Medaria Arradondo said. "Mr. Floyd died in our hands so I see that as being complicit."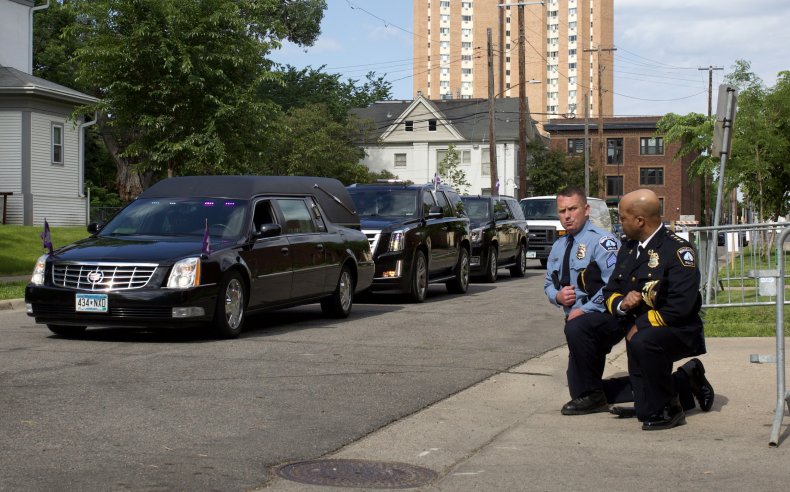 Chauvin was originally charged with third-degree murder and second-degree manslaughter on Friday, which carry sentences of up to 25 and 10 years in prison, respectively. Ellison said he increased the charge to second-degree felony murder because he believed "the evidence available to us now supports the stronger charge."
Hours before Ellison, the lead prosecutor in the case, announced the charges, Benjamin Crump, the Floyd family attorney, called for officers to be arrested before the memorial. He expressed confidence that Ellison would charge the remaining three officers and said America cannot have two justice systems: one for black America and one for white America.
The family wants to see Chauvin charged with first-degree murder, a charge that Ellison explained would require the prosecution to prove premeditation and deliberation. Still, the family was "deeply gratified" that Ellison took "decisive action" to charge all four officers and upgrade the charge against Chauvin, according to a statement Crump shared on Twitter.
Crump called Floyd's death the "tipping point" for change in America during brief remarks on Wednesday. This is the time, he said, to see if America believes in Thomas Jefferson's words in the Declaration of Independence.
"That we hold these truths to be self-evident that all men are created equally that they're endowed by their creator with certain inalienable rights that amongst them are life, liberty and the pursuit of happiness," Crump said, paraphrasing the preamble. "In America, that means black people too."