Video Shows Pro-Russian Politician Punched, Put in Headlock on Ukrainian TV
A video captured on Friday from Ukrainian TV shows the heated moment when a journalist punched a pro-Russian politician during a panel discussion about escalating tensions in the region.
Ukrainian journalist Yuriy Butusov stood up from his seat and struck Nestor Shufrych, a parliamentary deputy from the pro-Russian party Opposition Platform–For Life, during an argument over Russian President Vladimir Putin.
Live footage of the incident showed Butusov slapping Shufrych in the face and placing him in a headlock. The two proceeded to fall to the floor and fight on stage for nearly a minute while others attempted to intervene.
The fight broke out during a talk show on the TV network Ukraina TV, which featured other high-profile politicians including former Ukrainian Prime Minister Arseniy Yatsenyuk and former President Petro Poroshenko.
The discussion became tense when Shufrych refused to answer questions condemning Putin after he was asked whether the Russian leader was a "murderer and a criminal."
"Let Ukraine's authorities deal with that," Shufrych responded.
Poroshenko then mocked Shufrych for his comment, saying, "There's a Russian agent right here in the studio," before Butusov instigated the physical altercation. After the fight, Shufrych reportedly returned to the stage with a bloody face and mocked Butusov for "scratching like a girl."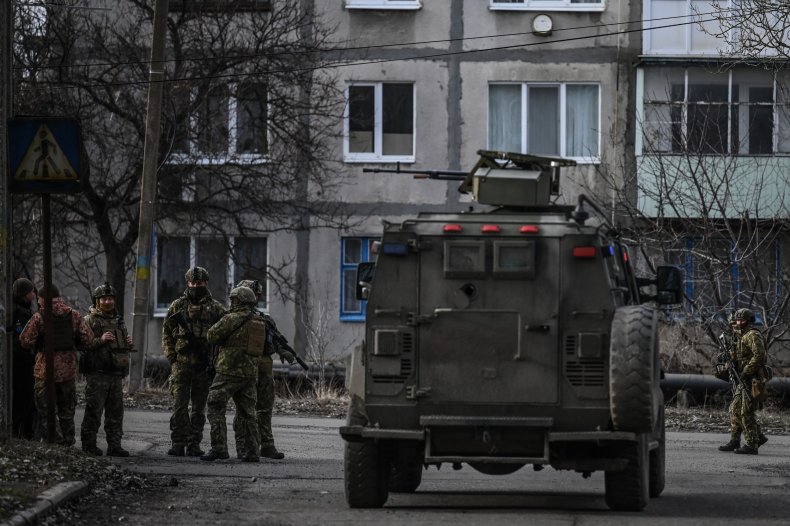 The incident took place amid growing fears that Russia is planning an imminent invasion of Ukraine. Over the past several weeks, Russia has amassed as many as 190,000 troops at the Ukraine border.
President Joe Biden said Friday that he's "convinced" Putin has made the decision to spark a war in the region, and that Russian troops may invade the country in the coming days. The U.S. also believes that Russia has been conducting widespread cyberattacks on Ukrainian banks and the country's defense ministry.
Russia has repeatedly denied any plans of attack, but weeks of diplomatic negotiations between Western nations have failed to ease tensions along the border. Meanwhile, pro-Russian separatist leaders in eastern Ukraine have launched evacuations from the nation and urged for widespread militarization.
Vice President Kamala Harris warned Saturday that Moscow will face "unprecedented economic costs" if the country chooses to attack.
"We will impose far-reaching financial sanctions and export controls. We will target Russia's financial institutions and key industries. And we will target those who are complicit and those who aid and abet this unprovoked invasion," she said during a security conference in Munich, Germany.
"Make no mistake; the imposition of these sweeping and coordinated measures will inflict great damage on those who must be held accountable," the vice president added.