Video Shows Protesters Call Out Streamer Who Asked Them to Flip Over Truck: 'We Do Not Instigate'
An online video that emerged from Sunday's demonstrations in New York City shows protesters calling out an individual, who was streaming the protest live from his phone, for asking them to flip over a vehicle.
The streamer can be heard asking protesters, "Can you flip the car there?"
A protester who was filming at the time quickly turns the camera on the streamer before asking him, "What? Are you kidding me? You're asking us to flip over the truck?"
The streamer immediately shakes his head, repeatedly says "no" and walks backward as another protester tells him, "We do not instigate, because it comes back on the black and brown people."
The protester behind the camera continues to ask the man if he was asking the crowd to flip over the truck before shouting to the demonstrators, "This man just asked us to flip over the truck with his camera out!"
The streamer begins backing away as the other protester chants, "We do not incite violence," before the man is seen running away from the demonstration.
The streamer has since deleted his social media accounts, such as those on Reddit, Twitter and YouTube, where the live stream was uploaded.
After the man live-streaming the protest ran away, protest leaders stopped the crowd to alert the demonstrators of the situation, telling them to communicate with the rest of the group if individuals try to incite violence.
The march was part of the escalating demonstrations across the nation sparked by the death of George Floyd, who died in police custody after a Minneapolis officer was seen kneeling on his neck in a viral video.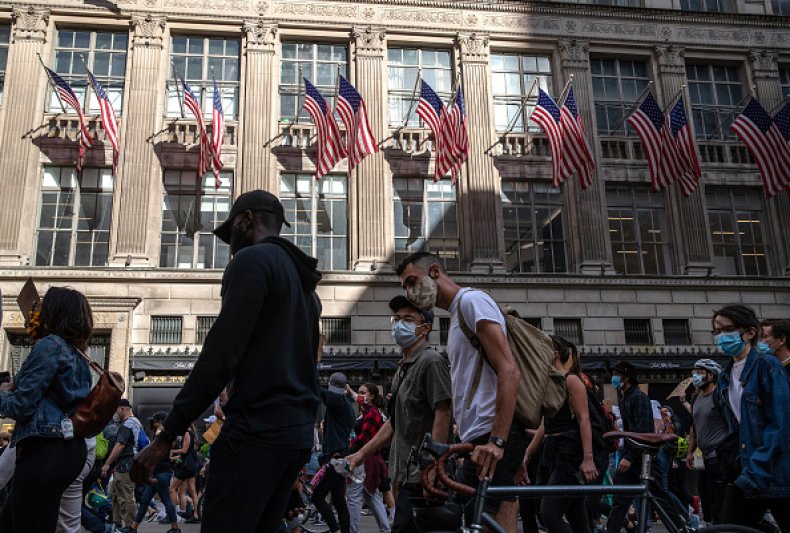 Many protests, including the one depicted in the video, have remained calm. Across New York City, demonstrators gathered peacefully on Sunday afternoon, in Bryant Park, Times Square and SoHo, before chaos erupted at night, with looters hitting stores in the downtown area.
Protesters continued demonstrating peacefully on Monday, New York's fifth day of demonstrations. Demonstrators in Manhattan gathered in Times Square and Sheridan Square, while another group marched from the East Village through the city's Lower East Side neighborhood.
However, the violence that occurred Sunday night was enough to bring a curfew on Monday night. Governor Andrew Cuomo and Mayor Bill de Blasio announced the citywide curfew, from 11 p.m. to 5 a.m., and the doubling of city police officers from 4,000 to 8,000.
"The violence and the looting has been bad for the city, the state and this entire national movement, undermining and distracting from this righteous cause," Cuomo said Monday. "While we encourage people to protest peacefully and make their voices heard, the safety of the general public is paramount and cannot be compromised."
A Tuesday night curfew was also imposed but starting at 8 p.m., three hours earlier than Monday's order.