Video Shows Protesters Smashing Windows at NYC Restaurant While Patrons Dine
Several videos posted to Twitter appear to show a group of protesters gathered outside a New York City restaurant and eventually breaking several of the restaurant's windows while patrons dined inside.
In one video posted to Twitter by NYC Scanner an individual apparently located inside the restaurant speaking on a microphone to a group gathered outside.
"So many Black and brown indigenous community members are often left out," the individual can be heard saying. "They are often neglected, left out unhoused without any food, without medication, without medical care, without mental health access.… We believe in Black Lives Matter. We believe in the liberation of our community."

 As the video continued, the individual speaking to the group outside the restaurant address the patrons inside and says, "We want to let the patrons know...you cannot ignore us any longer. You cannot ignore the community of New York."
The individual can then be heard calling for supporters outside the restaurant to chant "Black Lives Matter," while some of those outside can be seen hitting on drums and the restaurant's windows.
While it is unclear exactly where the incident took place, the video appears to show the group gathered outside the Balthazar restaurant, as that name can be seen on the awnings. Newsweek reached out to the Balthazar restaurant for comment but did not receive a response in time for publication.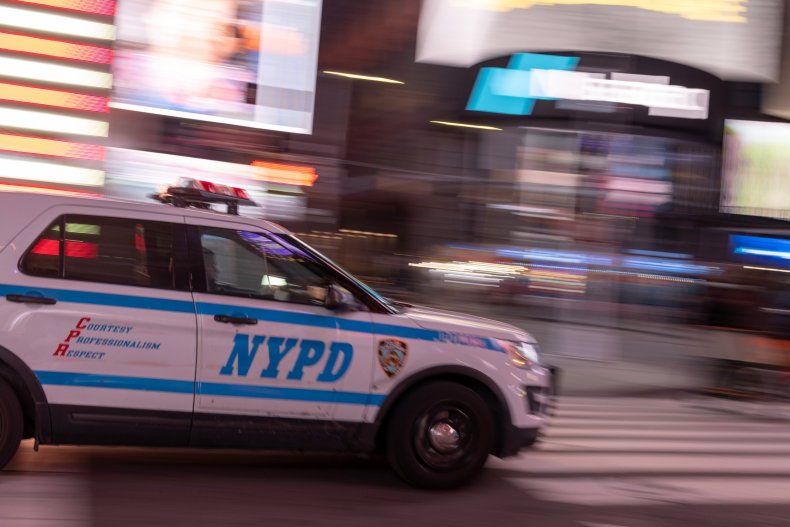 Another video posted to Twitter by the New York Police Department (NYPD) News account, shows the restaurant's broken windows after the group of protesters left the area.
"Tonight, in Lower Manhattan demonstrators purposely caused property damage to a local restaurant by breaking several windows while patrons were eating dinner. Small businesses need our support, vandalism is not the answer especially during these trying times," NYPD News wrote in the tweet.
The NYPD News Twitter account also posted a picture showing a damaged police car, reportedly caused by the group of protesters.
NYPD detective spokesperson Sophia Mason wrote to Newsweek, "There is a complaint report on file for a criminal mischief incident that occurred on Thursday, April 1, 2021 at 2140hrs in front of 113 Thompson Street within the confines of the 1st Precinct."
According to Mason, the group of protesters broke "six plexi glass windows," while gathering outside the restaurant.
"There were no reported injuries as a result, there are no arrests at this time and the investigation is ongoing," Mason added in her email.
Newsweek further reached out to the NYPD to confirm that the incident took place at the Balthazar restaurant but did not receive a response in time for publication.