Video Shows Protesters Spraying Paint at Police Officers in Spain in Effort to Halt Eviction
Nearly 100 protesters took to the streets of Barcelona, Spain, on Tuesday to protest a recent eviction protocol put in place by Pere Aragonès, the newly elected Catalan president, after riot police were sent to carry out the eviction.
Early Tuesday, activists took residence in the headquarters of Esquerra Republicana, the political party for Aragonès, to protest the recent evictions and housing crisis in the city, as well as demand that riot police no longer be used to carry out these evictions, reported Catalan News.
While the president, officially sworn into office on Monday, promised a new protocol, riot police were still deployed to carry out an eviction. Aragonès said, "When it is up to us, we are sure about the fact that riot police must not attend, but this was a judicial decision," reported Catalan News.
The police were sent into the Poble Sec neighborhood of the Catalonia region, as activists and neighbors threw objects and sprayed paint at the officers as a video from a protest on Tuesday shows. Catalan News reported that officers were using batons to try to end the situation.
Público reported that three officers were slightly injured, but no other reports on injuries have been made at this time.
The residence involved in the riot, 38 Carrer de Lleida street, was a building that used to be social housing, but was bought by a "vulture fund" that has evicted residents in order to flip the apartments and resell them for "exaggerated prices," reported Catalan News.
The building has been what Público called "an icon in the struggle for housing" for four years now, as it was once used by activists to house victims of previous evictions.
The Popular Unity Candidacy (CUP), a far-left pro-Catalan independence party, was also involved in the protests as some members were in the crowd, reported Catalan News.
CUP member of Parliament Laia Estrada tweeted, "It is unjustifiable that the public authorities not only do not guarantee the right to housing when there are thousands of empty flats, but also send riot police to defend the vulture funds and therefore to violate this fundamental right!"
Local activists explained that, because CUP helped Aragonès become president, one deal between the two parties was to agree that riot police were unnecessary in carrying out evictions on residents who can prove that they are vulnerable.
However, Catalan News revealed that the judge who ordered the deployment of police into the area denied the reports from social workers claiming that a resident occupying the apartment was, in fact, vulnerable.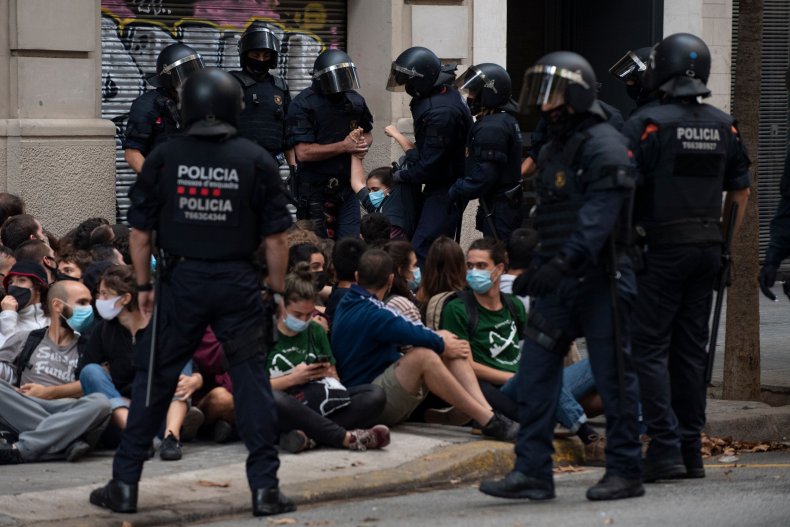 Spain's housing crisis has escalated in the past few years, as a report from the BBC last December highlighted that thousands of people have been displaced from their homes due to a lack of social housing and debates about individual rights to own property.
Housing activist Filiberto Bravo, head of the residents' association, told BBC in December: "We are a very small neighborhood of around 10,000 inhabitants. Right now, we have a frequency of some four, five or six evictions every week."
"The situation here is very, very, very bad," said Bravo.