A man who identified himself as a "true patriot" threatened and harassed Nevada Governor Steve Sisolak at a Las Vegas restaurant Sunday.
Video obtained by the Las Vegas Review-Journal captured the incident, which occurred while Sisolak was trying to dine out with his wife and one of his daughters. The man, who has not been identified, begins by putting his arm around Sisolak, a Democrat, for a photo but then proceeds to say: "I can't tell you what a piece of s*** you are."
"I'm sorry to hear that," Sisolak responded.
The man continues lobbing expletives and insults at the governor, including "you New World Order piece of s***." He also calls attention to Sisolak dining out without security with him. Another man in the background accused the governor of hiding Hydroxychloroquine—a drug some have pushed as a COVID-19 treatment that health experts have dismissed as ineffective.
"I'm surprised you have the balls to be out here without security, punk. Out here without a cop. Out here without security," he said.
As the confrontation continues, Sisolak exits the restaurant without responding to the man, who continues.
"You working for China piece of s***. You traitor. We should string you up on a lamp post right now," he said.
The other man added, "You know what they do to traitors? They hang traitors."
Sisolak's office said in a statement to Newsweek that he was "deeply disappointed in how this incident unfolded, particularly with the language used to talk about First Lady Kathy Sisolak's heritage."
"We can disagree about the issues, but the personal attacks and threats are unwarranted, unwelcome and unbecoming behavior for Nevadans," the statement said.
The statement continues: "The Governor works on behalf of all Nevadans – even those who disagree with him – and he will continue to do so. He appreciates the professionalism shown by the restaurant employees and looks forward to continuing to support Nevada's small businesses and their employees. The Governor has always and will always encourage Nevadans to be kind to one another."
Other political leaders in Nevada from both major parties also spoke up to condemn the harassment.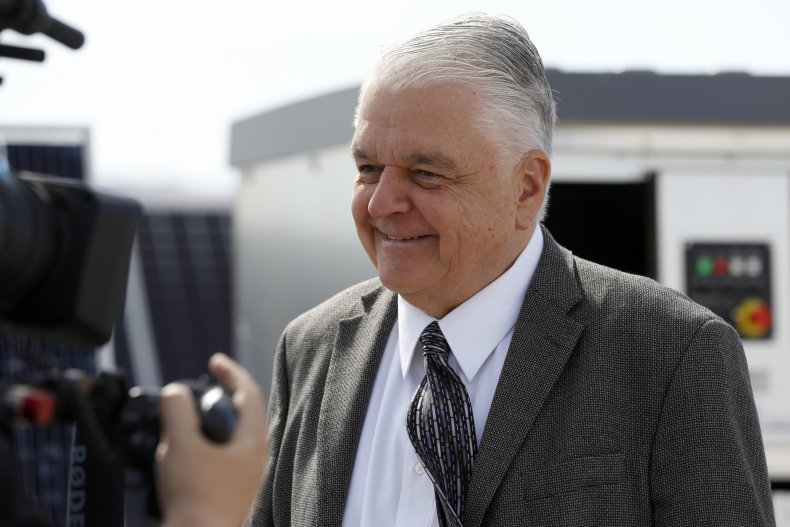 "No one deserves to be accosted while trying to enjoy a peaceful meal with their family," Joe Lombardo, the GOP Clark County Sheriff who is challenging Sisolak in the gubernatorial election later this year, said in a statement, according to the Nevada Independent. "Hateful verbal abuse and violent threats have no place in our political system," he added.
U.S. Senator Catherine Cortez Masto, a Democrat, wrote on Twitter: "This is absolutely unacceptable behavior. I am glad @GovSisolak and the First Lady are safe, and I urge all Nevadans to reject this type of violent rhetoric."
Sisolak is the latest political figure to face threats of violence. Last October, a man from Detriot was sentenced to five years probation after threatening to kill Michigan Governor Gretchen Whitmer and Attorney General Dana Nessel, both Democrats. Last week, another man was convicted for threatening Democratic West Virginia Senator Joe Manchin and Fox News hosts.