Video Shows Red Dye Exploding From Bank Robber's Bag as He Strolls Then Runs on Street
A suspect accused of robbing thousands of dollars from a bank in Newark, New Jersey, on Saturday was captured on video after a red-dye pack thrown in by the bank teller exploded among the cash in his backpack, according to video footage released by police.
Newark police obtained footage of the suspect fleeing the Capitol One bank on Springfield Avenue after stealing $2,300 on Saturday morning, NBC New York first reported. In the video, the suspect can be seen crossing the street before a red-dye pack explodes inside the backpack of stolen money.
After the red-dye pack explodes, the suspect can then be seen running.
Banks are often equipped with dye packs in order to help police identify when a robbery takes place. When a robber demands cash, a bank teller can stick the dye pack into the bag of stolen money so that it bursts shortly after the robbery, covering both the cash and robber in a distinctive ink.
According to police, the suspect entered the Capitol One bank around 10 a.m. on Saturday and presented a teller with a threatening hand-written note requesting cash.
"I have a gun give me all the money from the register please, and no one will get hurt," the note read, police told NBC New York.
By Saturday afternoon, investigators shared a video of the suspect with the local news outlet in an effort to help identify the person. The male suspect is seen on camera wearing a white t-shirt and carrying a backpack.
At the time of writing, it was unclear whether police were able to identify or arrest the suspect. Newsweek contacted the Newark police for additional information and will update this story as it becomes available.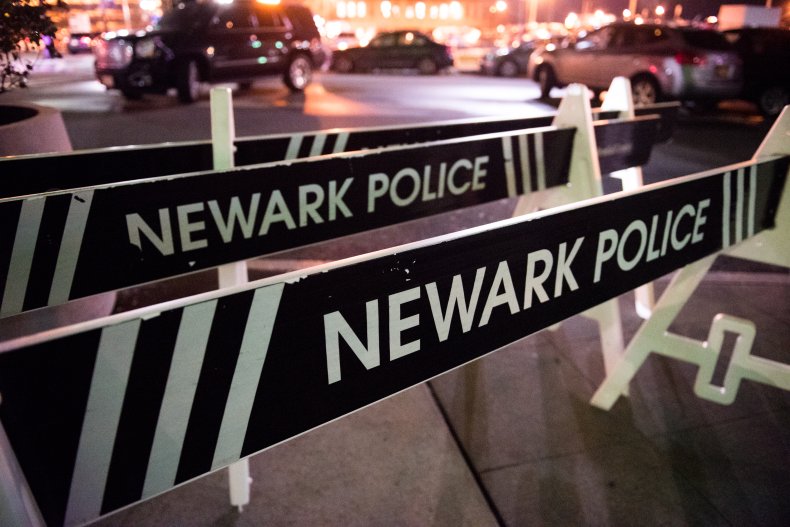 Meanwhile, two men were charged earlier this week for robbing the First Midwest Bank with firearms on June 11 in Gary, Indiana. Police and the FBI arrested Hailey Gist-Holden, a 26-year-old amateur league football coach and team owner, and one of his players, 24-year-old James Anthony King Jr., after they allegedly took $9,771.09 in funds.
During that robbery, authorities said the duo shot and killed 55-year-old bank security guard Richard Castellana. A bank manager said she heard a loud boom, and looked up to see a man in a black hoodie screaming "Get down!" while telling bank employees not to move.
One of the robbers then held a bank teller at gunpoint as he took money from her drawer, the employee said. The manager said she heard two more shots fired in the bank before a second person yelled, "We gotta go, we gotta go."
Authorities believe the two men committed the crime to fund their adult amateur league football team. On Tuesday, both men were charged with armed bank robbery and for using, carrying, brandishing and discharging a firearm and murder. Federal prosecutors said that both men could face the death penalty.