Video Shows Referee Attacked At Youth Basketball Game By Coach
A Facebook video showing a physical confrontation that reportedly took place between a coach and a referee at a youth basketball game in Thousand Oaks, California, went viral, generating more than 300,000 views since it was posted.
The altercation is not the first, but simply the latest example of incidents involving adults getting into physical fights at youth sporting events.
The two men are seen arguing in one another's faces at the start of the video, which can be viewed here. It quickly escalated when the coach, once affiliated with the CAVS Youth Basketball Program, grabbed the referee's throat with both of his hands and began pushing him backward. The referee reached up and also grabbed the coach's throat while bystanders urged them to break apart.
Several onlookers tried to pry them apart but the video ended before the two men are seen separated.
According to KTLA, the confrontation reportedly began when the referee called two technical fouls against the coach.
Darryl McDonald, the founder and director of the CAVS Youth Basketball Program, told Newsweek the coach, who worked with the team for about 10 months, was suspended within minutes after the incident, and he was later fired.
McDonald explained that coaches are required to participate in a training program offered by the organization.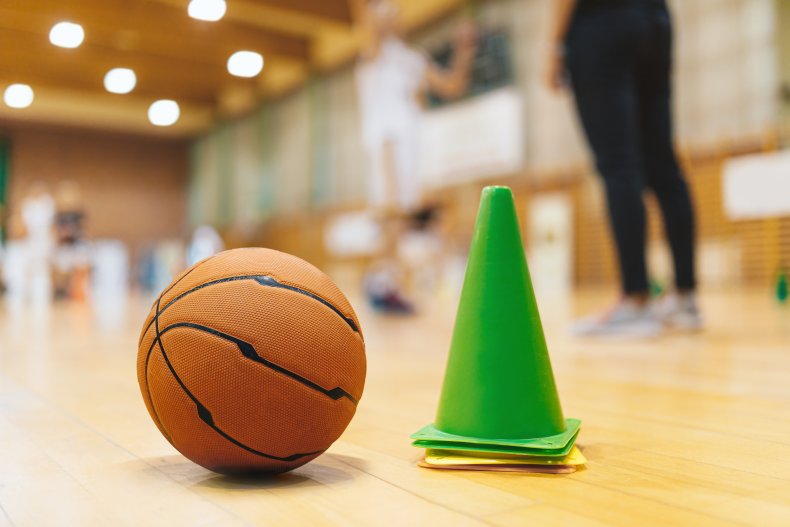 Though a shocking video, there have been other recorded incidents that took place involving adults getting into physical altercations at a youth sporting event.
The Gazette, a newspaper based in Colorado Springs, Colorado, reported that several adults allegedly got into a "brawl" following a 13-year-old umpire's call during a baseball game between 7-year-olds in 2019.
Officers with the local police department cited some of the people involved and asked for the public's help in identifying others.
"Anecdotally, it appears to be a growing problem, and certainly not something that there's an easy answer for, but we definitely believe that there is toxicity and there is an imbalance in youth sports," Jennifer Royer, director of TrueSport, told The Gazette. "It's a really adult problem that has been created by the adults."
McDonald told Newsweek the altercation between the former coach and the referee was brief and there were no injuries reported. He also said the police were not called or involved in the matter.
Steve Peters, a referee who was not involved in the incident, told KTLA the altercation was "uncalled for."
"We all say we're here for the kids, but your behavior shows," Peters said. "What is that teaching the kids when we say sportsmanship?"
McDonald told Newsweek this was an isolated event.
"We don't condone or tolerate that kind of behavior in our organization," he said. "This organization has been around for 30 years and it has provided a quality experience for kids."