Representative Dan Crenshaw of Texas got into a heated exchange with a young woman during an appearance Monday evening at a Montgomery Party Tea Party PAC meeting.
Video of the quarrel—shared by Scott T. Parkinson on Twitter and has so far generated 552,000 views as of Tuesday afternoon—shows Crenshaw chastising the young woman after she asks him a question regarding a quote he made on a podcast.
According to the footage, the woman quotes the lawmaker as saying Jesus is a hero archetype like Superman, which prompts Crenshaw to loudly correct her and say: "Don't question my faith."
The young person was referencing a quote Crenshaw made during a 2020 appearance on the Jocko Podcast. Crenshaw's book Fortitude was discussed on the program, as was a talk about role models.
"The important thing is that we have societal hero archetypes that we look up to. Jesus is a hero archetype. Superman is a hero archetype. Real characters too, you know, I could name a thousand," Crenshaw said on the podcast. "You know, Rosa Parks, Ronald Reagan, all of these people embody certain attributes that the American people think 'This is good.'"
During a question-and-answer portion during Creshaw's appearance at the PAC meeting, the young woman approaches the microphone and says: "I've seen you claim to be a Christian. You've talked about God, but when you claim Jesus to be a hero archetype, you not only lied about Jesus not being real, but you lied about being a Christian."
"I can't wrap my head around this."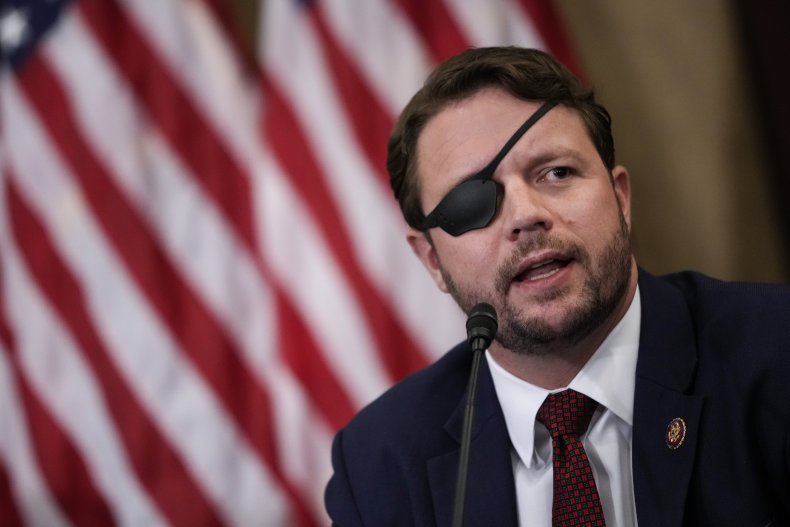 Crenshaw tells her she needs to add a period after Jesus' name in the list of people named. He then rebukes her: "Don't question my faith."
The Montgomery Party Tea Party PAC posted Crenshaw's entire appearance on its Facebook page, but a video taken from the crowd quickly went viral on social media Tuesday. In the clip, members of the audience can be heard booing and telling Crenshaw not to talk to a kid in that manner.
"Nowhere in that quote am I saying Jesus is not real. That's a ridiculous statement," Crenshaw says during the exchange.
Someone in the audience can be heard then asking Crenshaw if Jesus is the son of God. The Texas congressman answers: "Of course, he's the son of God."
The young woman continues with her questioning and says: "You can say two different things. You can say that on a podcast, and you can say this here."
Crenshaw replies: "On the podcast, nobody would have understood it that way. I think you're twisting it that way, which is not very Christ-like, which is not very Christian. It's not. It's not, and I'm not going to have my faith questioned."
Jameson Ellis, a conservative challenging Crenshaw's seat in the House, tweeted out a video of the young woman asking the question to the Texas lawmaker regarding Jesus. Ellis described the young woman as being 18 years old in his tweet.
In another Twitter post, Ellis also shared a photo that appears to show the young woman holding a sign for his campaign while at the Montgomery Party Tea Party PAC event.
Newsweek reached out to Ellis' representatives for comment.
Update 01/18/22, 1:15 p.m. ET: to include more background information.