Video Shows Rockets Being Intercepted by Missiles, Lighting Up Tel Aviv Sky
A video posted on Twitter Tuesday by Louis Fishman in central Israel shows a night sky flashing with lights and smoke. At first glance, the sky appears to be filled with falling stars, but the sound of sirens blaring reflects terror on the ground, as these lights are actually hundreds of rockets launched from the Gaza Strip colliding with Iron Dome missiles.
The confrontation between Israel and Hamas, a Palestinian resistance group, reached a critical point Monday as Israel unleashed new air strikes on Gaza, while Hamas militants barraged back with hundreds of rockets. The escalation of violence was rapid. The attacks resulted in the deaths of at least 16 Israeli militants, and 28 Palestinians in Gaza on Monday night.
According to AP News, Hamas launched 130 rockets in retaliation for the destruction of a highrise in Gaza late Tuesday. As the rockets rose into the sky, voices from the mosques reportedly blared chants of "God is great," "victory to Islam" and "resistance."
Just south of Tel Aviv, one rocket collided with a bus and critically injured three people, including a 5-year-old girl. Other rockets collided with family homes, killing and injuring many civilians. Another tore through a third-story apartment, wounding six people.
According to military officials, the Iron Dome, an Israeli antimissile defense system, successfully intercepted about 90 percent of the rockets that were targeting populated areas of Tel Aviv, creating the "surreal" scene from the video put on Twitter.
It is currently unclear just how many people have been killed in both Israel and Gaza during the air strikes.
The military wing of Hamas, Al-Qassam Brigade, threatened Tel Aviv if Israel targeted civilian towers in Gaza.
"If the enemy persists and bombs civilian towers, then Tel Aviv will be on time with a more severe missile strike than what happened in Ashkelon," tweeted group spokesman Abu Obeida.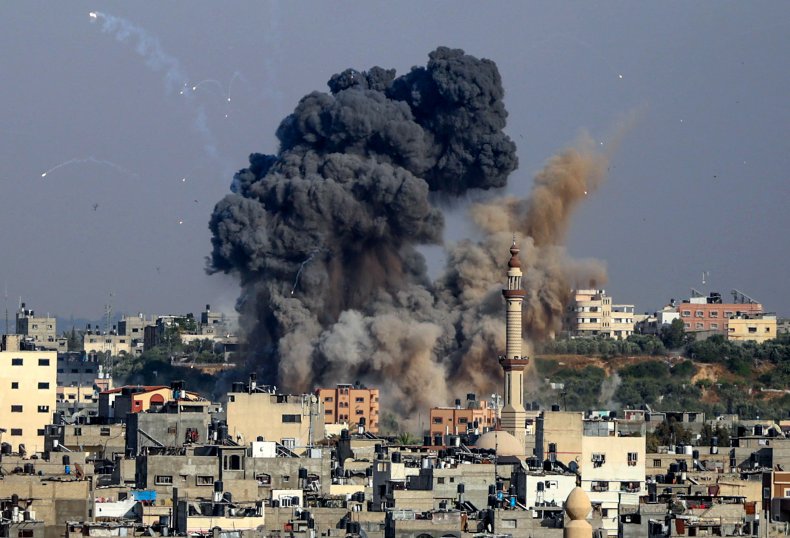 The increasing violence in Jerusalem over the past few weeks may have been one preceding trigger in the violent attacks. Tensions between Israeli and Palestinian communities in the city have risen, and early Monday morning, Israeli police forced their way into Jerusalem's al-Aqsa mosque compound, firing rubber bullets and stun grenades at the hundreds of Palestinians who fought with police throughout the night, according to Foreign Policy.
U.S. State Department spokesman Ned Price was pressed during his daily briefing on the violence and called for "restraint and calm."
"Israel has the right to defend itself and to respond to rocket attacks. The Palestinian people also have the right to safety and security, just as Israelis do," Price told reporters.
When asked if he had seen the pictures of Palestinian children reportedly killed in Israeli air strikes, Price solemnly replied, "I've seen those pictures. It's hard not to look at those pictures and feel a sense of the suffering. It's precisely why today we have called for restraint and de-escalation in an effort to preserve life."