Video Shows Russian Ammo Depot Obliterated by Strike: Ukraine
A new video released on social media showed the moment that a purported Russian ammunition depot was obliterated in a strike amid the ongoing war in Ukraine.
The video was shared on Twitter on Wednesday by the Ukrainian Defense Ministry. It initially shows a wide view of a stretch of land, and then begins to zoom in on one point in the distance.
A fiery explosion then occurs, causing a massive cloud of smoke to envelop the area that was hit. The footage then pivots to a closer view of the area that was targeted, showing a small group of people, presumably Russian soldiers, walking around smoking wreckage on the ground.
"The gunners of the 28th Brigade, together with the air reconnaissance of the 4th brigade of the National Guard, have destroyed the command post and ammunition depot of the occupiers," the post's caption read.
The video had received 65,000 views as of early Wednesday afternoon.
Newsweek was not able to independently verify Ukraine's claim about destroying a Russian command post and ammunition depot and reached out to the Russian Defense Ministry for confirmation and comment.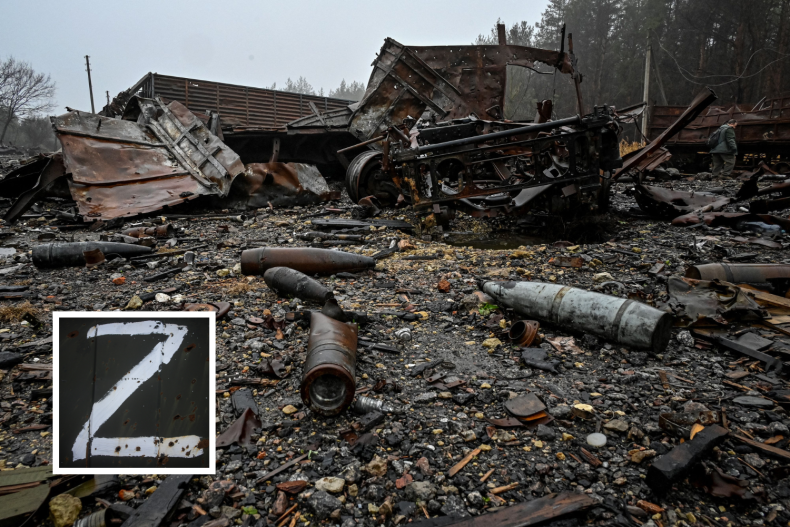 Additionally, many details about the context of the video remained unclear, including where the command post and ammunition depot were located, when they were destroyed and what weapon or weapons were used to carry out the strike. Newsweek reached out to Ukraine's Defense Ministry for additional information and comment.
The war in Ukraine has stretched on for nearly a year since Russia invaded its eastern European neighbor on February 24, 2022, sparking a wave of outcry and unprecedented sanctions against Russia. Meanwhile, Ukraine has received packages of weapons and other aid from Western allies hoping to help the war-torn country defend itself against Russian aggression.
Ukraine has reported successfully taking out considerable numbers of Russian personnel and supplies. The Ukrainian Defense Ministry said in its latest update on Wednesday that more than 128,000 Russian personnel, more than 3,200 tanks and nearly 6,400 armored combat vehicles had been destroyed since the start of the war. Those numbers have not been confirmed by Russia.
Ukraine has also reported destroying at least dozens of other Russian ammunition depots in recent months. In July 2022, Ukrainian Defense Minister Oleksiy Reznikov said that U.S.-supplied High-Mobility Artillery Rocket Systems (HIMARS) had been used to destroy 50 Russian ammunition depots.
Ukraine has announced additional instances of Russian ammunition depots being destroyed since then, sometimes saying that multiple had been taken out in one day.