A division of Ukraine's military on Saturday posted a video it said shows a Russian artillery unit opening fire on its own troops after they attempted to surrender.
Ukraine's 3rd Separate Assault Infantry Brigade shared the video on its Telegram channel. The footage was reportedly filmed in the Donetsk village of Andriivka and came a day after Ukraine's General Staff announced the 3rd Assault Brigade had retaken control of Andriivka from Russian forces. In a statement about Andriivka, the assault brigade said the conflict was a "lightning operation" that took place over two days.
Andriivka is located approximately six miles southwest of the long-contested city of Bakhmut, and the village's liberation comes as Kyiv's ongoing counteroffensive continues to find success throughout various regions of the country. Since launching the counteroffensive in early June, Kyiv has said it has recaptured more than a dozen villages in the Zaporizhzhia and Donetsk regions alone that were once occupied by Russia.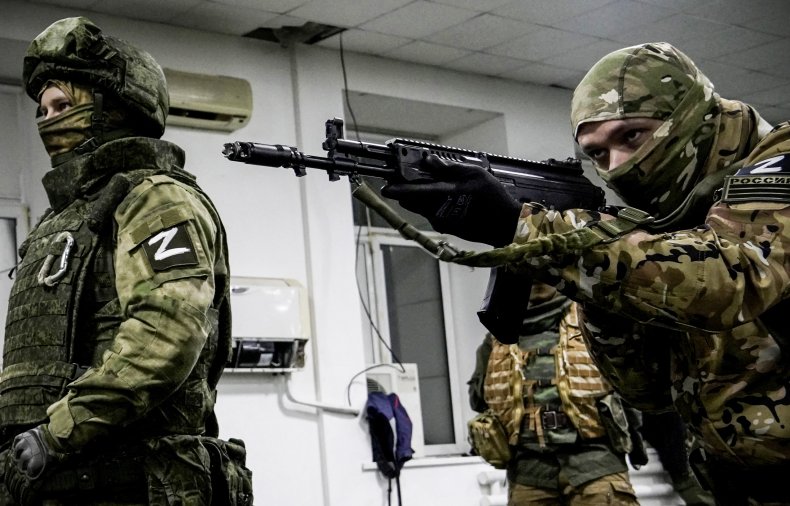 The video posted on Telegram by the 3rd Separate Assault Infantry Brigade, which Newsweek could not independently verify, shows Ukrainian troops forcing three Russian soldiers to lie on the ground after they have surrendered. Soon, an artillery round can be seen going off on both the Ukrainian and Russian troops.
Newsweek reached out the Russian Ministry of Defense via email for comment.
The video has since been shared on other social media platforms, including X (formerly Twitter).
The Ukrainian troops involved in the incident were reportedly unscathed by the artillery explosion, but the 3rd Separate Assault Infantry Brigade said one of the Russian soldiers was killed.
According to a translation by the Kyiv Post, the assault unit wrote that one of the Russians was "captured in pieces, two are lucky and are taken out to live. Luck plays a role in war."
"Just a fantastic story that happened during the storming of Andriivka," the Telegram post read, per the Kyiv Post. "Assault group 2 of the mechanized battalion takes another group of prisoners. At the same time the enemy, realizing that the village is lost and his soldiers are surrendering en masse, orders to open 'fire on their own.'"
In a Facebook post about the recapture of Andriivka, the General Staff of Ukraine's Armed Forces said "the defense forces of Ukraine during the offensive actions had partial success in the area of Klishchiivka."
"During the assault operations they had success and mastered Andriivka, causing the enemy significant losses in manpower and equipment," the post said.