Russian police were allegedly stopping civilians on the street in Moscow and demanding to search their cell phones on Sunday, according to a video posted on Telegram by reporter Anna Vasilyeva with the Russian newspaper Kommersant.
The video was reposted on Twitter by Kevin Rothrock—an editor for the Russian- and English-language news outlet Meduza—where it has reached 5.9 million views. The clip appeared to show two armored police officers stopping at least five people on the street in Lubyanka Square in Moscow and scrolling through their cell phones as the civilians looked on.
Rothrock said in his post that the officers were "reading their messages" and "refusing to release them if they refuse."
Since Russia invaded Ukraine on February 24, more than 13,000 people have been detained at anti-war protests across Russia, according to independent protest monitoring group OVD-Info. At least 4,600 people were detained at protests on Sunday alone, the group said. The Russian Interior Ministry put the number of arrests on Sunday at 3,500, according to Russian state news agency TASS.
Russian President Vladimir Putin has severely clamped down on the press and free speech in recent days. On Friday, he signed a law that criminalized "false information" about the Russian armed forces, with a sentence of up to 15 years in prison and fines of up to five million rubles (approximately $32,258 USD).
Russian officials claimed that it was false to call the attacks on Ukraine a "war" or an "invasion"—the Kremlin is calling its actions a "special military operation."
Vyacheslav Volodin, the State Duma Speaker, said "those who lied and made declarations discrediting our armed forces will be forced to suffer very harsh punishment."
The new law also punishes any citizens who support sanctions against Russia or demand an end to the war.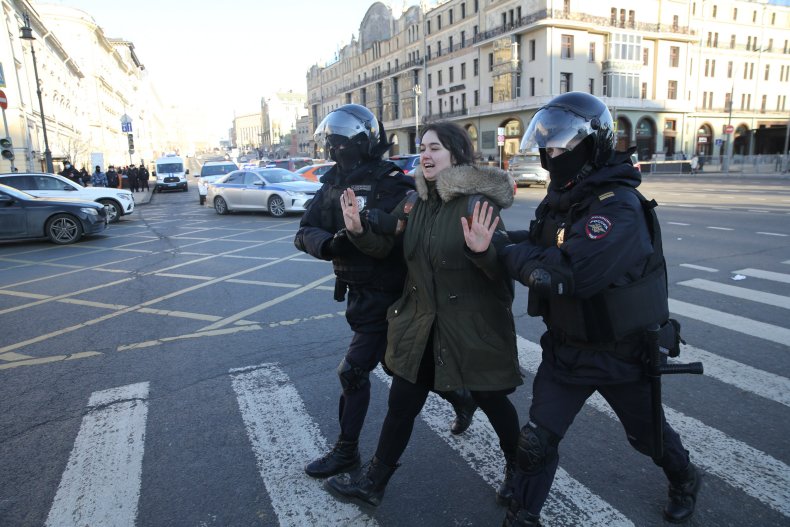 Under pressure from the state, Russia's most widely consumed independent news sources were forced to shut down last week, including the Echo of Moscow radio station, TV rain and the Znak news website. Independent newspaper Novaya Gazeta, which has had six of its journalists murdered, said that it was deleting its coverage of the war in Ukraine.
The government also announced on Friday that it would block access to Russian-language media produced outside the country, including the BBC, Deutsche Welle, Radio Free Europe/Radio Liberty, the Voice of America and Meduza. The BBC said that it has suspended all its operations in Russia.
Russian authorities are legally permitted to access the contents of a person's phone, tablet or personal computer without a court warrant, according to the Library of Congress.