Video Shows Sailor Screaming 'F*** Trump' in Confrontation With Protesters
A video posted to social media reportedly shows a uniformed U.S. Navy petty officer shouting "f*** Trump" during an angry confrontation with protesters.
The short clip was posted to Facebook on Sunday. The poster explained that the incident happened while a group, apparently supporting President Donald Trump, were holding a "pro-America rally" on a sidewalk.
A woman wearing a Navy uniform pulled up in car before getting out and engaging in a heated confrontation with the crowd, flipping them off while yelling "f*** Trump" and other remarks that are unclear due to the crowd shouting back. The sailor was identified by officials as Aviation Boatswain's Mate (Launch/Recovery) 2nd Class Sarah J. Dudrey, according to (and Navy Times.
The furious crowd hurled their own insults during the incident and demanded to know the name of Dudrey's commanding officer while attempting to order her to "take off" her uniform. The minute-long video ends as a defiant Dudrey again raises her middle fingers in the air and walks back to the car.
Dudrey is reportedly stationed at Southern California's Naval Base Ventura County. Those on active duty in the Navy, or any other U.S. military branch, are not permitted to make political statements while in uniform.
"The Navy is a proponent of free speech and active-duty members are free to participate in protests during their off-duty time," Navy spokeswoman Melinda Larson told Navy Times. "However, Navy members are not authorized to wear military uniforms while engaging in protests and voicing personal opinions."
The post included a comment that Dudrey had been "reported" after the incident. It is not clear what disciplinary action may be taken, but Larson told the outlet that "the Commanding Officer will make a determination on what actions are warranted" after an investigation is concluded.
Newsweek reached out to Naval Base Ventura County for comment.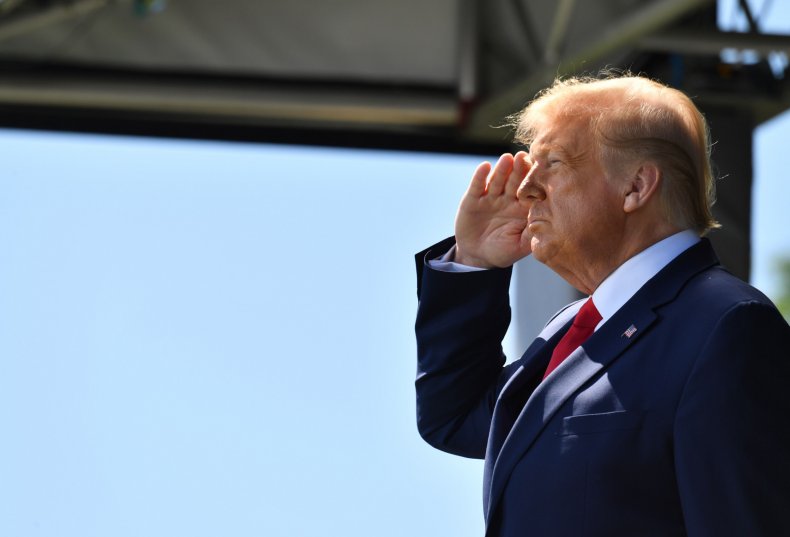 Polling indicates that a majority of current military members do not appear to view Trump favorably. A Military Times poll conducted late last year found that half of active duty service members disapprove of his leadership, while 42 percent approved. Trump fared worst among officers, with only a third approving.
Before Trump was elected, some service members and veterans expressed anger over comments he made against his political rival, the deceased former Senator John McCain—remarking that "I like people who were not captured" when speaking of McCain's experience as a prisoner during the Vietnam war.
Trump avoided being drafted into the military during the war due to a doctor diagnosing him with bone spurs. Multiple people since then have made disputed claims that the diagnosis was faked as a favor to Trump's wealthy father, including the doctor's daughters and the president's former lawyer Michael Cohen.
The Commander-in-Chief's recent actions could also be harming his standing among military members, although up-to-date polling is unavailable. Reports claiming that he failed to act after being told that Russia was involved in a plot to pay bounties to kill U.S. soldiers have been the subject of heavy criticism.
Trump also recently suggested he would block military leaders if they decide to rename bases named for Confederate soldiers, telling Chris Wallace "I don't care what the military says" during an interview that aired Sunday on Fox News.
Video Shows Sailor Screaming 'F*** Trump' in Confrontation With Protesters | News