Adorable Video Shows Sea Turtle Attacked by Shark Being Released Back Into the Wild
A sea turtle that was injured in a shark attack a month ago has been returned to the wild after she was nursed back to health by marine specialists.
The wounded reptile—a five-year-old Kemp's Ridley sea turtle now known as Vicki—was found in June by a group of people who were fishing off Wakulla Beach in Florida. A shark had bitten off her back fins and part of a front fin, according to Florida news outlet WCTV.
The turtle was taken in by the Gulf Specimen Marine Lab, a nonprofit group in Panacea, Florida.
Now the group has shared a Facebook video of Vicki being released back into the water on Thursday. The clip can be seen here.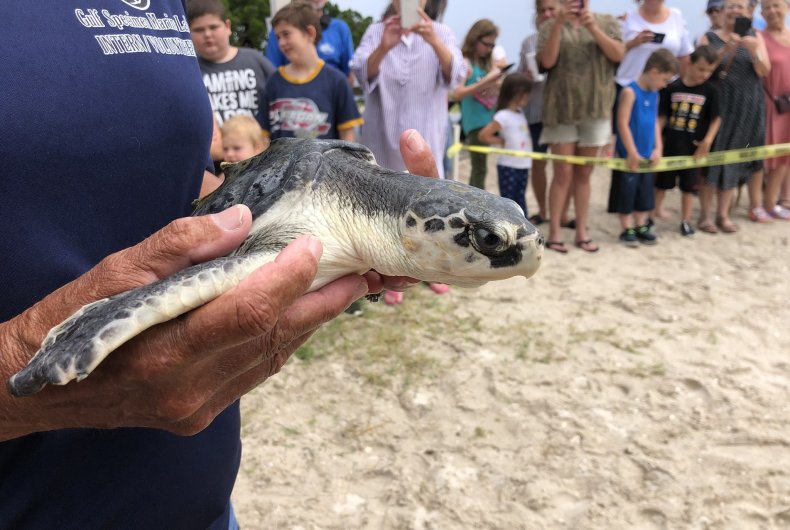 Kemp's Ridley sea turtles are the smallest sea turtle species in the world and are listed as endangered.
Primarily found in the Gulf of Mexico but also sometimes in the Atlantic, the species was once abundant but has suffered a significant population decline, due in part to being accidentally caught in commercial and recreational fishing gear.
According to the U.S. National Oceanic and Atmospheric Administration Fisheries agency, Kemp's Ridley sea turtle nests reached a record low of just 702 in 1985, representing less than 250 nesting females. Conservation efforts have led to an increase in numbers since then.
The species reaches maturity at around the age of 13 and is estimated to live for at least 30 years.
The Gulf Specimen Marine Lab says the Kemp's Ridley sea turtle is its most common rescue.
On July 20, the group announced on Facebook that Vicki had managed to gain weight and recover from her injuries, so was ready to be released back into the wild.
The organization encouraged people to come and watch the turtle's release back into the water at Shell Point Beach on Wednesday, July 28—which it said was its first sea turtle release of 2021.
Dozens of people turned out to watch the small turtle being walked a few feet into the water and then gently released by a lab staff member.
One of the eyewitnesses, named by WCTV as Cody Stroup, even took the feelgood opportunity to propose to his girlfriend afterwards.
Stroup told the TV station he thought it would be a good time to pop the question because his girlfriend, Madison Payne, had "always been obsessed with turtles and always talks about how much she loves them."
She said yes.