Video Shows Suspect in Stabbing of UCLA Student Brianna Kupfer Behind Furniture Store
A UCLA graduate student was working alone at a furniture store in Los Angeles' Hancock Park neighborhood on Thursday when a man entered the shop, killed her and fled out a back door, according to police.
Newly released video footage shows the man who might be responsible for the daylight attack of Brianna Kupfer, 24, walking behind the Croft House store in an alley moments after the fatal stabbing.
The man is dressed completely in black, including black shoes, black pants and a black sweatshirt with the hood up around his head. He is wearing a white N-95 mask and carrying a black backpack as he walks toward Oakwood Avenue and La Brea Avenue, the Independent reported.
The Los Angeles Police Department said in a news release on Friday that officers responded to a call at Croft House, on the 300 block of North La Brea Avenue, at about 1:50 p.m. There, they encountered a customer who had walked into the store and found Kupfer dead on the floor.
Detectives concluded that Kupfer and the suspect did not previously know each other, and he entered the store where she was working randomly, according to the LAPD.
"There is no known motive at this time. The suspect was last seen on video surveillance northbound in the alley to the rear of the crime scene," the release said.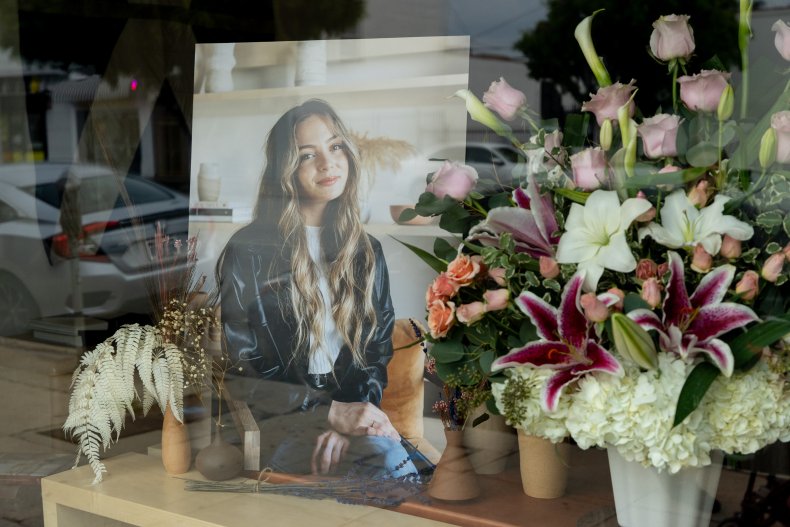 Police said that the suspect was described as a tall and thin Black male, but his age is unknown. Officials believe that the suspect is homeless, the LAPD said, citing "evidence discovered by detectives."
Kupfer graduated from the University of Miami in 2019 and studied abroad at the University of Sydney in 2018, according to her LinkedIn profile. She had been pursuing her next degree at UCLA and working as a design consultant at Croft House.
Her father, Todd Kupfer, described her to Fox News as a "kind soul" who "cared about people." He also decried the crime levels in Los Angeles, and the political leaders, he said, haven't done enough to curb them.
"Crime is truly spiking, and we have a lot of criminals on the streets that shouldn't be out," Kupfer said.
Los Angeles police urged anyone with information on the case to contact West Bureau Homicide investigators at 213-382-9470 or their anonymous Crime Stoppers tip line either via text or a phone call.
An LAPD spokesperson declined to offer any additional comment on the suspect or case to Newsweek.