Video Shows Terrifying Moment School Bus With 23 Children Hit By Racer
Terrifying footage released by the Albuquerque Police Department (APD) shows the moment a street racer struck a school bus carrying 23 children on February 23.
The bus camera captured middle school students from the George I. Sanchez Collaborative Community School in Albuquerque, New Mexico, during their afternoon ride home. Moments before the crash, the children were chatting and milling around the bus.
Students screamed as a car rammed into the passenger side, hurling them through the air and flipping the school bus over.
A press release from the APD said the car was a Ford Mustang driven by Mario Perez, who was racing another Ford Mustang. One witness estimated the two cars hit approximately 110 miles per hour. The area's speed limit is 40 miles per hour, police said. The bus driver told investigators he was driving around nine miles per hour.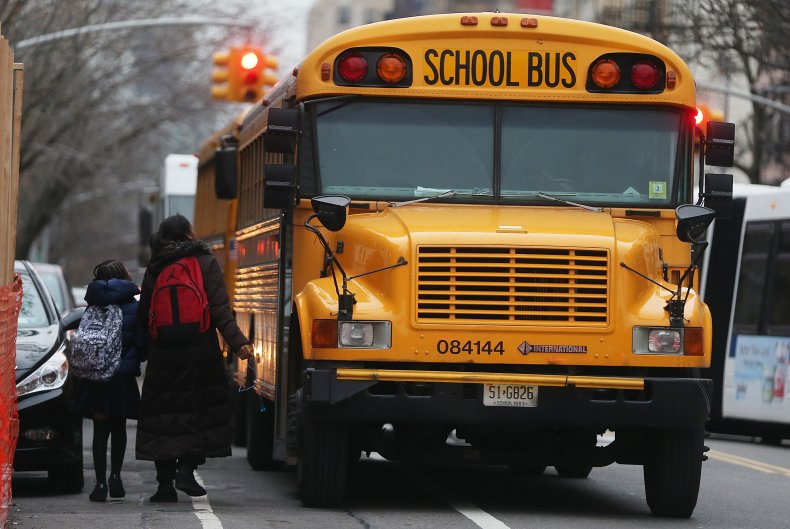 Children were heard screaming and wailing in pain after the crash, while the chaotic footage showed them scrambling to get off the bus.
"I think I broke my leg, I can't move my leg," one student said.
"Someone help Lizzie," another yelled.
The footage also revealed how the bus driver and two nearby men came to the children's aid.
"Hey, is there a first aid kit on the bus?" one man could be heard calling out. "There should be a first aid kit somewhere. It's for the girl that's bleeding out here."
Seven children were brought to local hospitals, police said. Two had serious leg injuries, one of which required surgery, while a third student needed surgery for a pelvic fracture. All of them were expected to recover.
Police charged Perez, who was hospitalized for a broken femur, with two counts of Great Bodily Harm by Vehicle.
Just hours before the accident, the APD announced a new Traffic Division program to boost enforcement against speeding and racing on city streets, with the goal of preventing crashes.
According to the National Highway Traffic Safety Administration, four to six school-age children die in school bus crashes each year, amounting to less than one percent of nationwide traffic fatalities and making school buses the safest vehicles on the road.
Nonetheless, the National Transportation Safety Board recommended in 2018 that all states enact legislation to require the installation of seatbelts on school buses. Currently, only eight states—which do not include New Mexico—have laws requiring that school buses be equipped with seat belts.