Thai Soccer Team Shown Safe in Hospital in First Footage Since Rescue
The hospital treating 12 Thai school children rescued from a flooded cave has released the first video showing the boys since they were saved.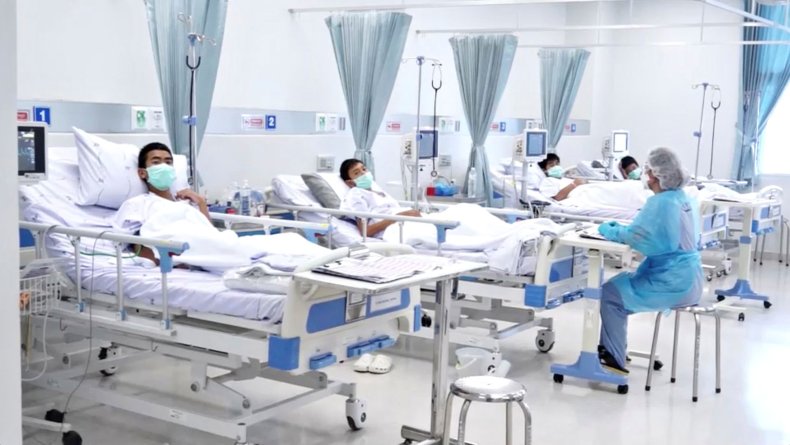 The video released by the Chiang Rai Prachanukroh Hospital, located in Thailand's Chiang Rai province, shows the boys lying and sitting in an isolation ward while wearing face masks and hospital gowns. The footage also depicts one of the boys flashing a victory sign and their parents crying and waving at the children from behind a glass partition.
Although parents of the first eight boys rescued were able to see their sons, they had to stand six feet away from the children. Doctors were worried about potential infections the children could have contracted in the cave. A health department inspector previously told journalists that one of the boys had a lung infection and that all children were vaccinated for rabies and tetanus, according to the London Evening Standard.
Hospital Director Chaiwetch Thanapaisal said at a news conference that "everyone is strong in mind and heart," The Washington Post reported. The children would be in the hospital for up to 10 days, the doctor said, adding that they require 30 more days to recover at home.
The three-day rescue effort to extract the members of the Wild Boar soccer team was completed on Tuesday, ending the team's 18-day entrapment in the cave. Eight boys were evacuated between Sunday and Monday, while four boys and their coach were removed on Tuesday.
Some of the children were not capable of navigating the treacherous passageways of the cave complex alone, making the operation more challenging.
Agence France-Presse (AFP) reported that the children were sedated and placed on stretchers to prevent them from panicking during the rescue mission from the Tham Luang cave complex. "Some of them were asleep, some of them were wiggling their fingers…[as if] groggy, but they were breathing," Navy SEAL Chaiyananta Peeranarong, who helped with the rescue, told the news agency.
Even the rescuers reacted with disbelief at the successful evacuation of all team members. "We are not sure if this is a miracle, a science, or what. All the 13 Wild Boars are now out of the cave," the Thai Navy SEAL team that led the rescue posted on Facebook after completing its mission, Reuters reported.
Although the children were saved, former Thai Navy SEAL diver Saman Kumont died during the rescue effort.