Tiger cubs rescued from a Ukraine animal sanctuary are safe and resting at a Polish zoo after a grueling journey across the border, footage shows.
The six tiger cubs were evacuated from the Save Wild Animal Sanctuary, near Ukraine's capital city Kyiv, to Zoo Poznań, which is based in western Poland.
The sanctuary started evacuating animals following reports of heavy artillery fighting in the area as Russia intensified its attack on the country. The tigers were evacuated to Poznań with other wild animals from the sanctuary including six lions, two caracals, and an African wild dog.
A video posted by the zoo on Facebook, which can be seen here, shows the young tigers exploring their new enclosure. Some of them huddle under a shelter while others look around and nuzzle each other.
The tiger cubs were transported to the zoo over two days and arrived safely on March 3 after a grueling journey.
As the truck set off from Ukraine towards the Polish zoo, Zoo Poznań said it had almost lost hope after finding out the truck had been surrounded by Russian tanks. However, it eventually managed to make its way past the checkpoint.
Chodyła previously told Reuters that the truck had to turn back many times in order to avoid blown up roads full of holes that were "impossible to pass."
Now, the zoo said the tigers are resting after their "travel difficulties." They have recently undergone veterinary tests and will remain in isolation for a few days. A few of them will eventually be transferred to other facilities in Western Europe, and some will stay in Poznań.
A press spokesperson at the zoo, Małgorzata Chodyła, told Newsweek that the zoo is busy working on more emergency shipments.
"We are trying to pick up another transport in the coming days," Chodyła said.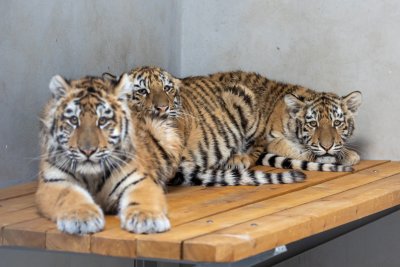 A Facebook post from the zoo on March 10 showed pictures of zoo staff packing a van full of supplies that will head to "wild animals in need" in Kyiv.
The post read: "They packed [the van] quite literally until it was bursting at the seams, with food... they set off on a very dangerous return trip."
Animal welfare organizations have been working to rescue animals in the country ever since the war broke out.
On March 5, the White Rock Shelter near Kyiv asked for emergency assistance to evacuate its resident bears after the area became increasingly dangerous. The bears were immediately taken to another bear sanctuary in Domazhyr, a village in Western Ukraine that appears calmer than other cities in the country.