Video Shows Two Violent Brawls at Miami International Airport: 'Stop! You're Going to Kill Him'
A viral video shared online Saturday shows two groups of individuals violently brawling inside Florida's Miami International Airport.
In the 90-second clip to Twitter by American film director Billy Corben, three individuals can be seen punching each other by rows of seats outside Gate D14. As the camera pans to the left, a separate group of four individuals can also be seen engaging in a fight.
"Guys, stop it. Guys, stop it, it's an airport," a male witness can be heard saying in the recording. "Security!"
"Guys, come on! You're going to f***ing kill him," the witness yells. "Stop it. Stop it!"
A female bystander urged the group to stop fighting. "You're going to get in trouble. Don't do that. Come on guys," she says.
Later in the clip, an airport security officer arrives at the scene and attempts to break up the fights. As he walks away, the fight on the right resumes, prompting bystanders to intervene in an effort to stop it.
As of Sunday evening, the video had been watched more than half a million times.
A spokesperson for the Miami Dade Police Department told Fox news that one individual was arrested for disorderly conduct after authorities were called about the brawl at the gate. Officials added that one victim who suffered minor injuries in the incident declined to press charges against the arrested individual.
Newsweek reached out to the Miami International Airport for comment. This story will be updated with any response.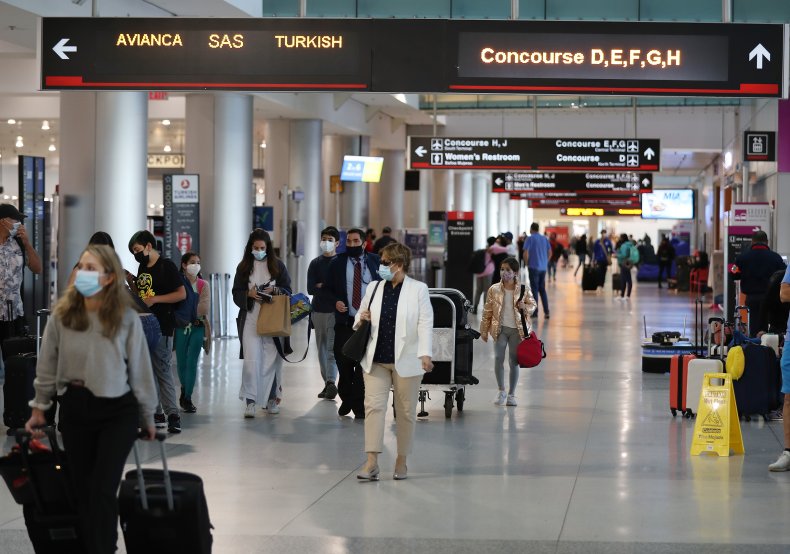 On Wednesday, police said a man wearing a hospital gown broke a window of an Ambulance vehicle and jumped a fence at Miami International Airport. He then ran onto the runway.
Authorities were able to quickly detain the man without any impact to flights. WPLG Local 10 reported that the unnamed man was taken into custody shortly after the incident.
On April 11, Miami International Airport canceled 142 flights and delayed an additional 70 flights due to poor weather conditions. The incident left thousands of passengers stranded without access to hotel rooms.
Traveler Stephen Daniel tweeted, "Delta delayed our flight several times until they finally canceled and have no flights until Wednesday."
"Stuck in the Miami Airport & all flights are canceled in the whole state. All flights, buses, rental cars, etc are booked until Wednesday to get back to Atlanta. Been waiting in the line to re-book for 3 hours in a line with 2K+ others," tweeted traveler Lauren Chamblin.
A spokesperson for Miami International Airport said that roughly 100,000 travelers were impacted, according to the Miami Herald.