Residents of Odesa, Ukraine, were treated to an early morning aerial light show on Sunday as the country's air force confirmed the takedown of a Russian missile over the city.
Located along the southern edge of the country, Odesa is the third largest city in the Eastern European nation by population, with a little over 1 million residents. As a coastal port city along the Black Sea, Odesa has also been a key strategic target during Russia's prolonged and ongoing invasion of Ukraine, suffering regular drone and missile strikes.
One of these strikes was intercepted above the city on Sunday morning, as confirmed in a Telegram post from Lieutenant General Mykola Oleshchuk, commander of the Ukrainian Air Force. In the post, Oleshchuk credited the intercepted strike to Air Command Pivden (South).
"For those who do not sleep - the morning combat work of the soldiers of the air command 'South' on [Russian cruise missiles!" the lieutenant general's post read. "September 17, 2023. Odesa. Your favorite city can sleep peacefully! Thank you soldiers! Together to victory!"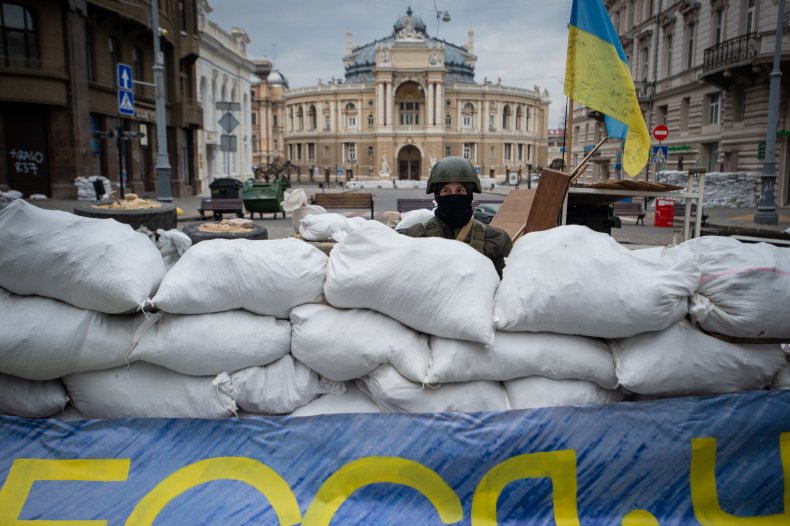 Oleshchuk's post also included a short clip showing the dazzling and harrowing moment that the missile was shot down. In the 16-second clip, the air force's anti-missile munition can be seen arcing up into the sky and then down toward its target. While the Russian missile cannot be made out in the clip, the Ukrainian munition ultimately finds its mark, creating a massive explosion that a headline from Ukrainska Pravda likened to "fireworks."
The clip was also shared to X, the platform previously known as Twitter, by Anton Gerashchenko, an adviser to the Ukrainian minister of internal affairs, known for his prolific social media posts about the state of the ongoing invasion.
"Shooting down Russian cruise missiles over Odesa region during yet another massive Russian attack on Ukraine last night," he wrote in his post alongside the video.
Newsweek reached out to Ukrainian government officials via email for comment.
According to Ukrainska Pravda, Saturday night leading into Sunday saw Russia launch a total of 10 cruise missiles and six drone strikes against Ukrainian targets. Of these strikes, Ukrainian forces were able to shoot down all six of the Iranian-made Shahed-136/131 drones and six of the missiles.
"Fighter aircraft, anti-aircraft missile units, mobile fire groups and other weapons are involved in repelling an air attack," the Ukrainian Air Force wrote in an official Telegram post on Sunday. "A strike by enemy missiles on the territory of a civilian agricultural business in Odesa Oblast was recorded; the State Emergency Service is responding, and local military administrations will report on the aftermath."