Video Shows Unarmed Black Man Being Deliberately Run Over By Kansas Sheriff, Claims Lawsuit
Dashcam footage showing a Kansas sheriff using his patrol car to plough into a Black man who was fleeing across a field on foot, knocking him to the ground and rolling over him, has been released as part of a civil rights case filed against officers in the state.
Lionel Womack, a former police detective from Kansas City, suffered serious injuries to his back, pelvis, thigh, knee, ankle and foot in the August 15 incident.
The 35-year-old's lawyer, Michael Kuckelman, has filed a suit against Kiowa County Sheriff's Deputy Jeremy Rodriguez, accusing the officer of intentionally driving at and over him.
In the video, filmed by another officer, an unarmed Womack is seen at the end of a police chase running without a shirt on as at least two other law enforcement vehicles give chase.
The sheriff's car strikes Womack using the left front bumper, causing him to fall to the ground. He is hit again as the car rolls over him.
Someone on the video says "oh s***" while a second voice is heard shouting "lie down, lie down."
Womack was being chased by police over "an alleged traffic violation," the lawsuit stated.
Explaining his decision to run, Womack was quoted by the Associated Press as saying: "When the first officer turned his lights on, I pulled over and complied ... exactly as you're supposed to. But when three additional vehicles pulled up quickly and started to surround my car, I freaked out. That's when I took off, it was a 'fight or flight' moment and I was going to live.
"I felt like I was in danger. This was out in the country, late at night, and it was dark. So I ran for my life. That's what you see in the dashcam video. I'm running in an open field, and I'm scared."
His lawyer, Kuckelman, said: "It is impossible to watch a video of a deputy driving his truck over Mr Womack without feeling sick. There was nowhere for Mr Womack to go. It was an open field, and he was trapped, yet the deputy drove his truck over him anyway."
The lawsuit calls for the officer driving the car that hit Womack, Rodriguez, to face charges.
Womack said he was not speeding before the police chase and his driver's license, insurance and registration were all up to date.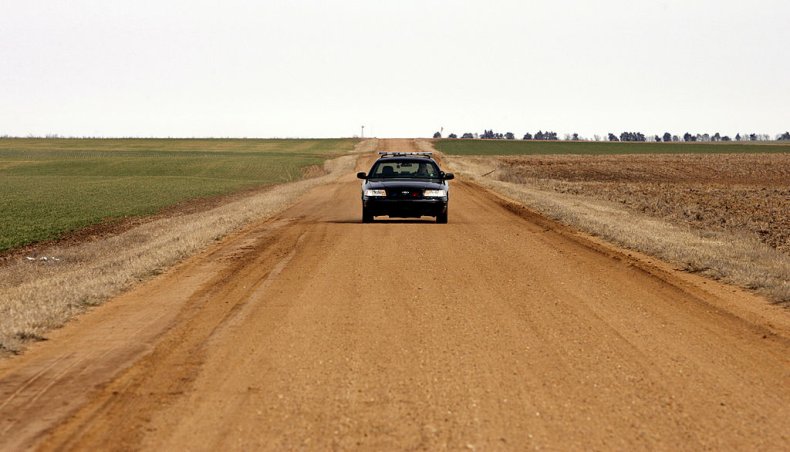 He is currently in jail in Oklahoma charged with attempting to elude a law enforcement officer by engaging in reckless driving, and interference with a law enforcement officer.
Court records cited by the AP said he was also charged with several misdemeanor traffic violations, including failure to drive in the right lane on a four-lane highway and driving without headlights.
Newsweek contacted the Kiowa County Sheriff, Chris Tedder, for comment.