Video Shows US Coast Guard Firing Shots at Iranian Warships
The U.S. Navy released a video of a ship firing approximately 30 warning shots at a group of speedboats from Iran's Islamic Revolutionary Guard Corps (IRGC) quickly approaching American vessels in the Strait of Hormuz on Monday.
Six U.S. Navy vessels were escorting a guided missile submarine, the USS Georgia, when they encountered 13 Iranian fast-attack boats that conducted "unsafe and unprofessional maneuvers," said Pentagon spokesperson John Kirby on Monday.
Two of the Iranian boats broke off from the group and approached at "high speed," coming as close as 150 yards to U.S. vessels, according to Rebecca Rebarich, a spokeswoman for the U.S. Navy's Fifth Fleet. At one point, she said, the two boats positioned themselves on either side of the American ship formation before speeding toward some of the vessels.
After the U.S. tried all "appropriate and established procedures involving hip blasts, bridge to bridge radio transmission and other ways of communicating," Kirby stated, the Coast Guard cutter Maui fired two volleys of shots with a .50-caliber machine gun, for a total of approximately 30 warning shots. Following the second round, the Iranian boats backed off.
Monday's incident follows a series of dangerous harassment maneuvers by Iranian ships. On April 2, four IRGC attack craft and a support vessel came within 70 yards of two American Coast Guard cutters.
In that incident, the Iranian ships harassed the cutters for approximately three hours, and their actions "were deemed unsafe and unprofessional," said Rebarich.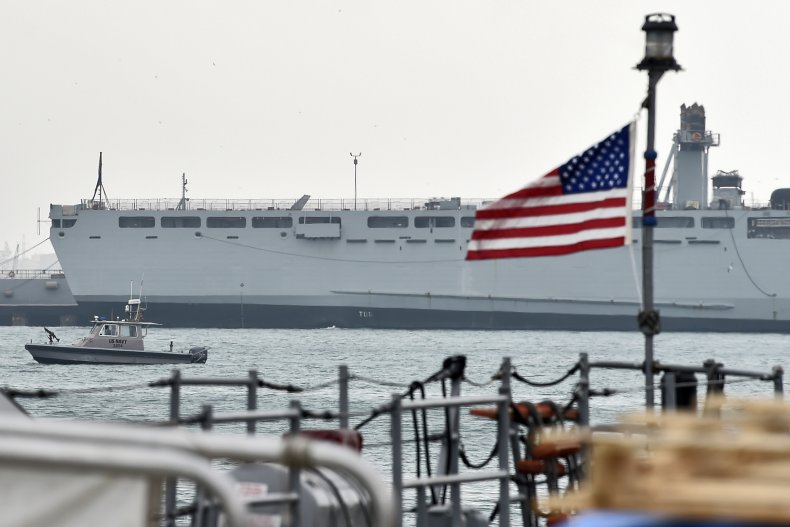 On April 26, three fast inshore attack craft came within 68 yards of a U.S. Navy ship, also resulting in warning shots, according to Rebarich.
"Throughout the interaction," she said in a statement, "U.S. forces proactively communicated with the IRGCN vessels and executed pre-planned responses to reduce the risk of miscalculation, avoid a collision, and to de-escalate the situation."
"Harassment by the IRGC Navy is not a new phenomenon," Kirby reported Monday. "It's an international waterway, and of course, when you're in the strait, there's certain limits to your ability to maneuver. I mean it is a chokepoint in the region, so it's not insignificant that this kind of dangerous, unsafe and unprofessional behavior occurred there."
The risky encounters come as the United States and Iran are in indirect talks in Vienna aimed at reviving the 2015 Iran nuclear deal, which the United States left in 2018. Last week, CNN reported that the Biden administration is also considering unfreezing $1 billion in Iranian funds that would provide the country with humanitarian relief.
When asked if it appeared the IRGC Navy was trying to instigate the U.S. Navy, Kirby declined to comment on the Iranian intentions.