Video Shows Violence Break Out at Homeless Encampment at Venice Beach, California Boardwalk
A new video shows a violent incident breaking out at a homeless encampment in California's Venice Beach boardwalk.
The video, posted to Twitter by an account named Venice Beach Boardwalk, was captured on Sunday at around 3:23 p.m. local time.
As the video begins, a group of five apparently homeless individuals can be seen crowding around an area on the boardwalk that is filled with tents and other makeshift homes. One is holding a stick and another has what looks to be a long wooden board with an unknown object attached to the top.
As the video continues, the group seems to be arguing about something when the stick wielder begins to walk into a makeshift home. Another individual walks toward her and throws a punch.
The two then wrestle each other down into an adjacent tent, which prompts the other individuals crowded around to join in the fight. One can be seen swinging the wooden board while another throws punches at the two on the ground.
One individual is then seen dragged out of the tent by her hair while she is punched in the head by one woman and beat with a pole by another. The incident is eventually broken up by two bystanders, but the group continues to argue with each other before the one individual that was dragged by her hair eventually walks away.
While it is unclear exactly what caused the violent incident, the video comes as the Venice Beach boardwalk has turned into a homeless encampment that has led to numerous fights and shootings.
Fox News previously reported that a shooting occurred on the boardwalk on April 28, when one man survived after being shot while several other videos obtained by KABC-TV in Los Angeles showed homeless individuals lighting tents on fire.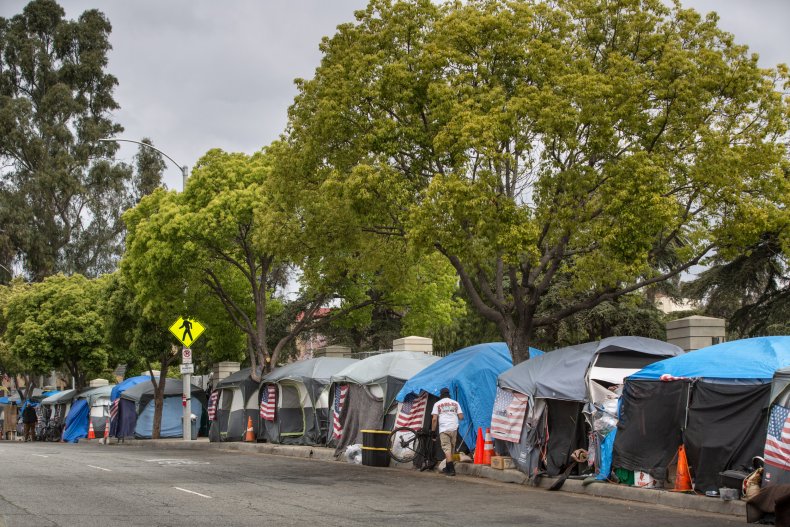 Several other videos posted across social media show an influx of tents erected by the homeless individuals across the Venice Beach boardwalk.
Newsweek reached out to the Los Angeles Police Department for comment but did not receive a response in time for publication.
The homeless encampment along the boardwalk has prompted many community members to criticize elected officials in Los Angeles and call for laws to be enacted to end the homeless crisis.
A recent letter signed by dozens of community members to county and city officials stated that over 200 tents had been erected along the boardwalk and that robberies, aggravated assaults, burglaries and violent crimes have all increased throughout the area over the past year.
"Venice's world famous beach and boardwalk are crippled," the letter stated. "Local children are refusing to come to the beach because they're frightened by what they've witnessed. Seniors who live on or near the boardwalk are terrified of walking in their own neighborhoods."
Los Angeles mayor Eric Garcetti previously proposed spending almost $1 billion to help get homeless people off the streets. A day after Garcetti's proposal, a federal judge ordered the city to find shelters for the homeless individuals and threatened to upend the $1 billion expenditure.
While speaking with KABC-TV, councilman Mike Bonin, who represents Venice, said that the solution to the homelessness crisis is creating more housing.
"We need to be doing everything we can to get as many people housed as quickly as possible," Bonin said.
In an email sent to Newsweek, Bonin said, "The surest way to prevent fires at homeless encampments is to help people move off the streets, out of encampments, and into housing or shelter. To that effect, we are opening another homeless housing project at a former motel near LAX today, funding shared housing for unhoused residents of Venice, continuing to push for opening tiny home villages, safe parking and safe camping, and interim housing throughout the Westside, and pushing for funds in the city budget for dedicated housing resources and mental health and drug abuse services for Venice."
Updated May 11, 2021, 2:14 p.m. ET: This story was updated to include a statement from Councilman Bonin.