Video Shows Waist-High Sea Foam Flooding A Spanish Town After Deadly Winter Storm Gloria
A video shared on the internet Thursday by the Today showdepicts a town in Spain whose streets were overflowing with waist-high sea foam from a powerful winter storm that has killed at least 10 people.
"A huge winter storm is wreaking havoc along Spain's west coast," Today host Hoda Kotb said in the video. "But it's not snow causing all the problems—it's thick blankets of sea foam.... Lining the streets, waist-high in some parts. [In] this little town of Tossa de Mar, just north of Barcelona, high winds have made that foam difficult to remove."
The video clip, shared on Today's Twitter account at around 7:30 a.m. Thursday, showed various clips of waves of sea foam washing up on a shore. It also captured someone wading in sea foam that was so thick it reached up to the person's waist. Three people in heavy winter clothing could be seen attempting to clear the streets of the foam.
The root cause of the foam was the impact of a winter storm that has been causing significant problems in Spain and its neighboring countries. Spain's State Meteorological Agency has dubbed the storm Gloria, according to The Washington Post, and it has caused very high winds and heavy precipitation.
Kotb points out in the clip that Tossa de Mar is in Spain's autonomous region of Catalonia in the northeast, about 64 miles north of Barcelona. Reuters reported that the foam in the town came about after Gloria "caused high waves and seawater agitation," conditions that can lead to a high accumulation of sea foam.
Tossa de Mar sits on Spain's eastern coast, where wind speeds have climbed to as high as 160 miles per hour—the strongest winds in the country since 1992, according to The New York Times. The paper also reported on Thursday that 600 people in Catalonia had to be evacuated from their homes on Wednesday, a day before Today shared the clip of the sea foam.
The eastern coast of Spain is not the only area that has had to deal with Gloria. The Times reported that the storm had caused the deaths of no less than 10 people across the country and that rescue teams are looking for several more who are missing. Communities in nearby France and Morocco have also felt the storm's effects.
The system is expected to dissipate by the weekend, according to the Post.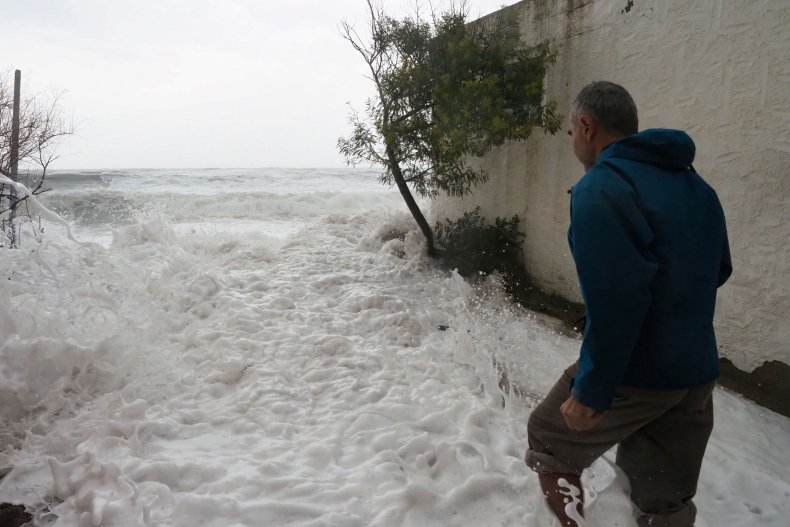 Video Shows Waist-High Sea Foam Flooding A Spanish Town After Deadly Winter Storm Gloria | World