Video Shows White Woman Vandalizing Monument Honoring Lewis & Clark's Black Guide
A video shows a 43-year-old white woman named Jeanette K. Grode vandalizing a Portland, Oregon park monument commemorating York, who was the only Black member of the Lewis and Clark Corps of Discovery which explored the western part of the country in the early 1800s. The Portland Police Bureau (PPB) charged Grode with vandalism but didn't arrest her.
The video shows Grode speaking to others after spray painting purple paint onto the sides of the monument. A man recording her sarcastically says, "Way to be part of the solution. Good job."
Grode responds, "Yeah, my name is Jeanette K. Grode. I'll pay for damages if you want me to. F*ck all of you. I've been prejudiced against Black people and Hispanic people, and everybody has been. I'm sure you've been prejudiced against people as well."
"I don't give a f*ck," Grode continued. "Do whatever the f*ck you want. This is a lack of unity, not to replace a white man with a f*cking Black man. That is not f*cking unity. Yeah, go ahead shake your heads. I wrote the white privilege book or whatever the f*ck else you want for your unity spiritual center."
Grode has since been charged with criminal mischief, abuse of venerated objects, the unlawful applying of graffiti and vandalism. Police didn't jail her "due to booking restrictions," the PPB said in a Thursday statement.
Grode's comments reflect the monument's recent history following several months of racial justice protests that put the city in national headlines.
In October 2020, local racial justice activists pulled down the previous statue of Harvey Scott. Scott was a white 19th-century conservative newspaper editor who used his publication to oppose social reforms, including women's right to vote.
The monument to York, located at the top of Mount Tabor Park in the city's east-central region, was erected by an anonymous artist on March 1, 2021.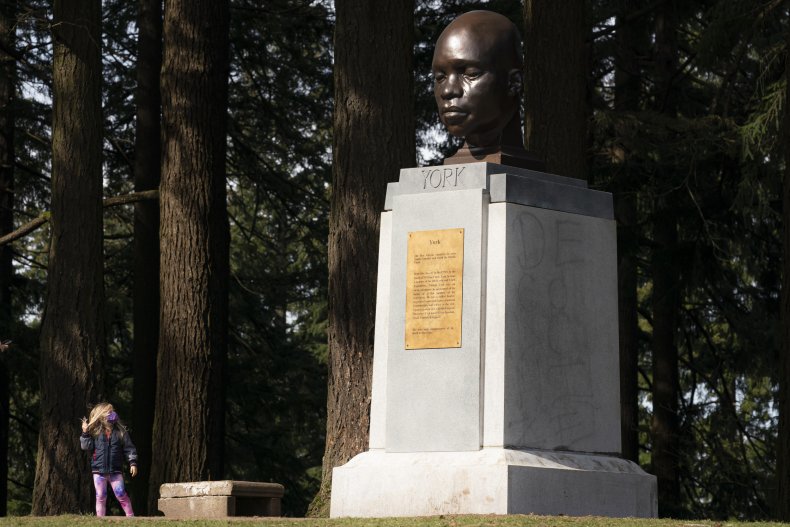 York had been enslaved by the father of famed explorer William Clark. After Clark's father died, he left York to Clark in his will. Clark took York on his famed expedition as a slave.
During their travels, Clark demanded that York use his appearance to intimidate the Native Americans, according to the history and culture magazine Smithsonian. However, one historic account from a member of the Nez Perce tribe said that York convinced the tribe not to kill Clark's entire group.
Clark refused to free York after the expedition ended. Instead, Clark sold York to a Kentucky farmer known for abusing his laborers. York was eventually freed sometime between 1811 and 1815. He died of cholera in 1832, according to PBS.
Portland City Commissioner Carmen Rubio said that, despite being installed without city permission, the bust of York would stay "for the foreseeable future." The former statue of Scott has been placed in storage as city officials decide on its future.
Newsweek contacted the PPB for comment.